Looking for a way to help organize your life? Grab your 20-Page FREE Printable Budget Sheets (…OR scroll down to get the COMPLETE 50-Page Ultimate Budget Planner!)
Get 20 valuable pages to kick-start managing your household budget and start getting organized!
Your 20-Page Free Printable Budget Sheets include:
A total of 16 different Monthly Budget Planner pages to choose the one that works best for you!
Also includes Saving Jar, Travel Budget Planners, and Project Budget!
Prints well in Color or Black & White
What do you have to lose?
Interested in the FULL 50-page Ultimate Budget Planner?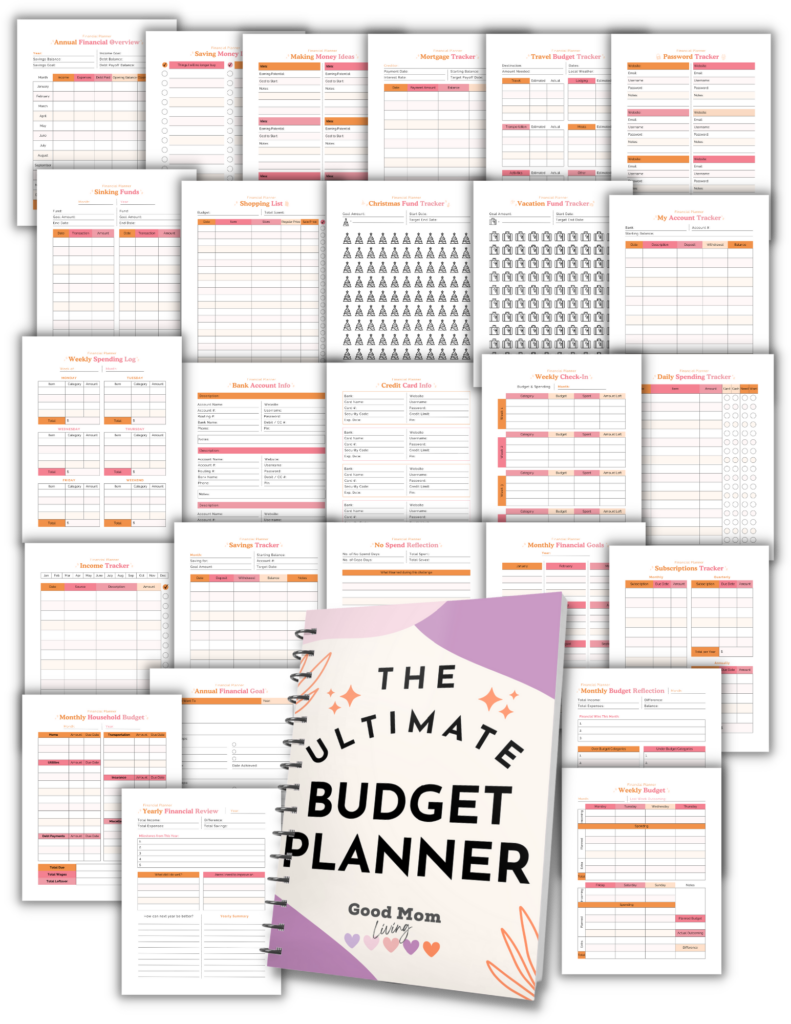 The Ultimate Budget Planner by Good Mom Living is jam-packed with 50 Color PDF printable pages! This Mom Planner has it ALL: Lists, Trackers, Calendars, Planners, and More!
Here's what's included in these printable budget sheets:
Yearly

Financial Review, Financial Overview, Financial Goal, Spending Habits
Monthly

Household Budget, Budget Reflection, Finances, Weekly Budget Trackers, Income, Savings, Expenses, Tax Deductions, Financial Goals, Financial Calendar
Trackers

​Online Shopping, Debt Payoff, Debt Snowball, Subscriptions, Weekly Spending Log, Car Fund, House Fund, Birthday Fund, Vacation Fund, Christmas Fund, Daily Spending, Investment, Bills, Password, Travel Budget, Mortgage, Credit Card
Info

Credit Card, Bank Account, Checkbook Register, Shopping List, Monthly Bills, Sinking Funds, Annual Net Worth, Emergency Fund Calculator, Weekly Check-In, Finances To-Do List, My Account
No Spend

No Spend Challenge and No Spend Reflection
52-Week Savings Challenge

Saving Money Ideas and Making Money Ideas
Don't Miss Out!
If you are looking for The Ultimate Budget Planner for busy parents, this is definitely it! Perfect for stay-at-home moms as well as working moms! Such a great deal too! Download today for only $19.
As a mom of two toddler boys, I know how hectic life can get. I am so grateful I have these budget pages keeping me on track! Once you start tracking your expenses and income on paper month after month, you start to notice patterns and can start to make small but meaningful changes!