Looking for screen-free activities for your toddler? Grab your 15-Page FREE Toddler Activities Bundle (…OR scroll down to get the COMPLETE 85-Page Ultimate Preschool Busy Book!)
Get 15 valuable pages to make learning fun for your child!
Your 15-Page Free Toddler Activities Bundle includes:
FUN Printable Matching and Sorting Activities
Also includes Fall, Winter, Spring, and Summer Coloring Pages
Prints well in Color or Black & White
What do you have to lose?
Interested in the FULL 85-page Ultimate Preschool Busy Book?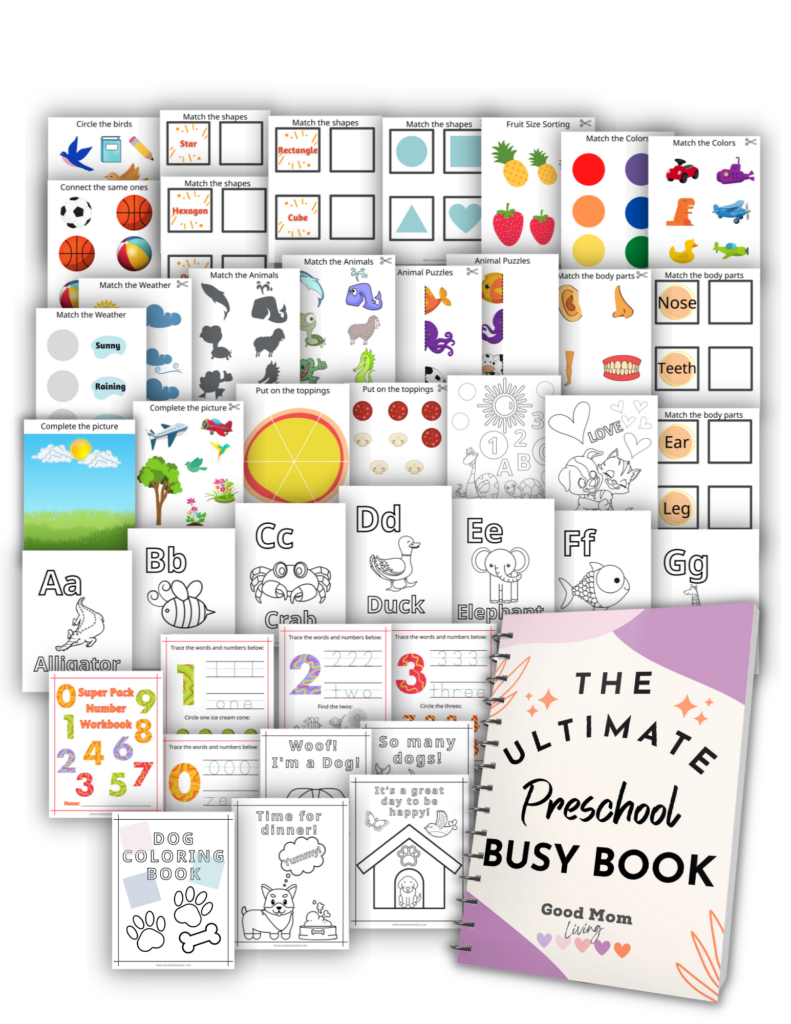 The Ultimate Preschool Busy Book by Good Mom Living is jam-packed with 85 Color PDF printable pages! This Preschool Activity Book has it ALL: Preschool Activity Worksheets, Alphabet Letter Coloring Pages, Number Workbook, and More!
Here's what's included in these printable toddler activities:
Fun and Engaging Worksheets

Circle the birds activity
Connect the same ones activity
Match the shapes sorting activity
Fruit size sorting activity
Match the body parts activity
Match the animals activity
Match the colors activity
Match the weather activity
Complete the picture activity
Put on the pizza toppings activity
Animal puzzles activity
Alphabet Printables

A through Z Alphabet Coloring Pages with Animals
Coloring Pages

​Dog Coloring Book
Toddler Coloring Activities
Alphabet Coloring Printables
Number Workbook

Super Pack Number Workbook (Zero through Ten)
Trace and Write Letters
Don't Miss Out!
If you are looking for The Ultimate Preschool Busy Book for busy parents, this is definitely it! Perfect for stay-at-home moms as well as working moms! Such a great deal too! Download today for only $19.
As a mom of two toddler boys, I know how hectic life can get. I am so grateful I have these toddler activity pages to keep my kids entertained! Once you start using these printable activity pages, your kids will start learning and having screen-free fun for hours!