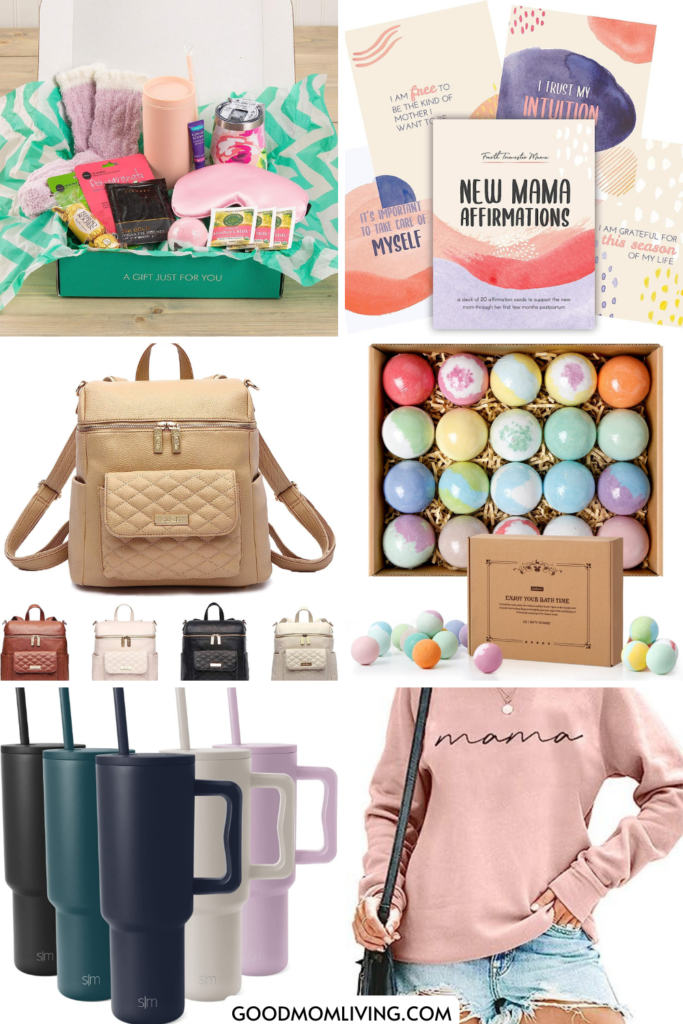 Are you looking for baby shower gifts for mom not baby?
Luckily for you, this is the place to be if you want to find unique baby shower gifts just for the expecting mom!  Finding the perfect baby shower gift for the mom-to-be can seem like a challenging task.
Also, be sure to check out these other related articles for expectant moms on 40+ Unique Gender Reveal Ideas and Best Diaper Raffle Prizes (Ultimate Gift Ideas)!
Check out this list of the top 50 best baby shower gifts for moms!
Don't forget! Pin this post to Pinterest to read again later!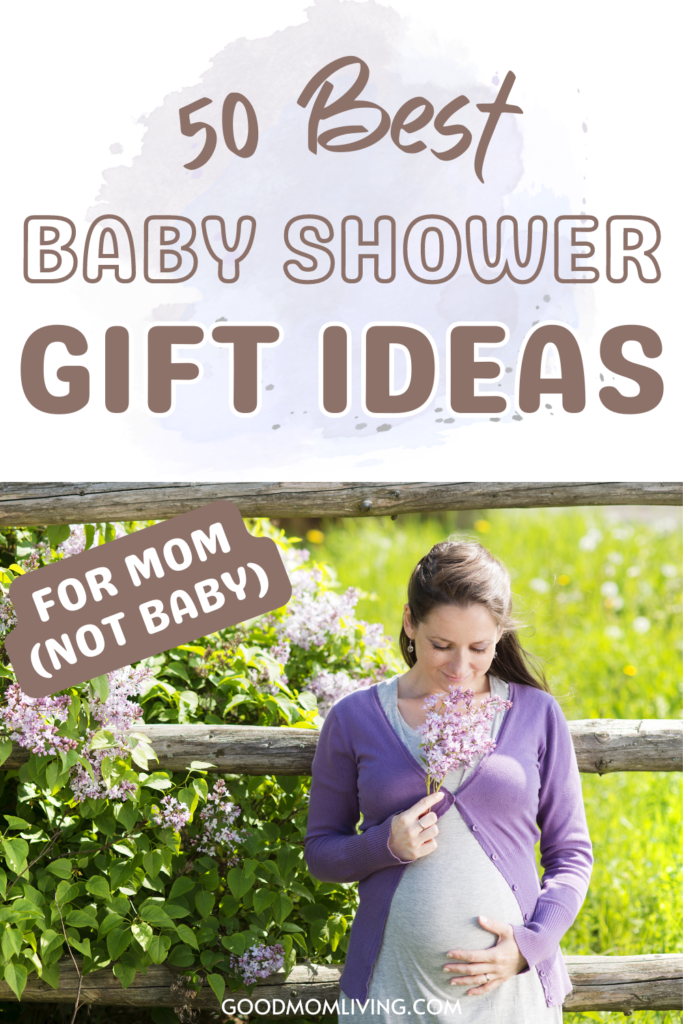 Unique Baby Shower Gifts for New Mom
A pregnancy pillow is a must-have for pregnant women in their third trimester.  If you can find the right one for this mom-to-be, she will be eternally grateful for it!  I loved having a pregnancy pillow when I was pregnant.
First aid kits are a great thing for an expecting mama to have around.  However, not all moms may have a first aid kit handy and/or would love a new one with fresh products.  You can't go wrong with gifting a first aid kit to a new mom.
Pregnant moms in their third trimester need to drink a lot of water.  In addition, if mama to be is planning to nurse their newborn baby, they will also make excellent use of a big water bottle in the "fourth trimester."
Diaper cakes are so fun to look at and display at a baby shower.  If you are planning the baby shower, you might even create some diaper cakes as decorations in your venue to set the mood for your guests.
You can't go wrong with gifting the new mom some essential oils.  I particularly love the scent of lavender, but there are so many options to choose from.   You could also ask the mom what scents she prefers to nail the right scent.
You can even buy a ready-made gift basket such as this one.  I think this would be a very thoughtful and generous gift that the mom-to-be would appreciate.
Good Baby Shower Gift for New Parents
Gifting the new parents a subscription to a meal delivery service, such as Hello Fresh, is a useful gift that even the dad-to-be will appreciate.  The new parents can choose to use the meal delivery service at the end of mama's third trimester or in the first weeks with their newborn when they most likely won't be wanting to cook a whole lot.  I would have loved to receive their unique gift at my baby shower.
Subscription boxes are a great gift idea. There are also so many different options out there, including baby subscription boxes from Lovevery.  If you know the mom-to-be well enough, you know exactly the kinds of things she might want a subscription for.  Alternatively, if you are a parent and enjoyed a particular subscription box yourself, you could gift that as well.
9. Laundry Services
Laundry services are a great idea to gift a new mama.  Finding time to do laundry can be tough when you have a newborn, so why not outsource it? Getting a laundry service will help simplify the new mom's chores so she can spend more time with the new baby and less time doing laundry.
Everyone enjoys splurging with gift cards.  You just can't go wrong with gifting a gift card to the new mama. I would pair it with a nice card or small baked goods.
Perfect Baby Shower Gift for First-Time Mom
Let's face it.  The expecting mom is most likely in her third trimester, and the aches and pains of pregnancy are real.  I think a gift certificate for a prenatal or postnatal massage would be just what she needs.  Also, you could give a gift certificate for a spa treatment of her choice.
I even took my pillow with me when I left the house with my newborn.  Breastfeeding can be challenging, especially in the beginning, and gifting the mom-to-be the perfect nursing pillow will be just what she needs once the baby arrives.
Getting the new mom-to-be a robe is an excellent gift.   Most of the robes can double as maternity robes as well as postpartum robes, so the new mom will be able to use the robe for many months.
Such a simple gift becomes such a luxury in their eyes and truly elevates the bath time experience.  An expecting mom would be thrilled to receive a set of bath bombs at her baby shower.
A lot of moms are looking forward to finally drinking some wine after they deliver their babies.  By giving the expecting mom a new set of wine glasses, she will be even more excited for that first sip of wine.  I love the idea of pairing the wine glasses with her favorite bottle of wine to complete the gift.
Breastfeeding infinity scarves are an example of one of these multi-use covers.  There are so many cute designs, colors, and fabrics that I am sure the mom-to-be would love to receive one (or many) of these car seat covers.
Great Baby Shower Gift for New Mama
You can't go wrong with getting the expectant mama the diaper bag of her dreams for her baby shower.
I am sure the new mom would appreciate the gesture and it would come in handy shortly.  You can either create your recovery care kit or purchase a ready-made one, such as this one.
 The mom-to-be would be thrilled to receive a robot vacuum to help her out at the end of her pregnancy and after the baby arrives.  Anything to help make Mama's life a little easier is a great idea.  By splurging on a robot vacuum for her baby shower gift, you are giving her the gift of more time with her newborn baby.
Amazon Prime just makes life so much easier.  And that is exactly what a pregnant mom needs.  By gifting an Amazon Prime Membership, you will be a life-save in her book for the next year (the length of the Amazon Prime Membership).
Is the expectant mom planning to breastfeed or pump?  If so, lactation tea is an excellent choice for a baby shower gift.  You can get a few different kinds and create a generous lactation tea basket that she will be sure to enjoy.
Lactation cookies are usually delicious, or at least that was my experience with them.  Gifting them to the new mom would be a very thoughtful gesture.  She will use them if she is planning to breastfeed or pump, and they make a great postpartum snack.
Thoughtful Baby Shower Gift Idea for Expecting Mom
A journal will grant her a safe place to express herself as she quickly approaches motherhood.  This is truly an amazing gift that she will be able to cherish in the future.
A beautiful photo album is a gift that will last a lifetime.  These days we tend to stockpile all our photos on our smartphones, but printing out our favorite photos of our baby's first year is still a great idea.  I love having photo albums of my boys that I can always look at.
I always appreciated receiving picture frames as gifts for my wedding and baby shower.  It's the kind of thing that she may not go out and buy herself, and that's what makes it a great (and simple) gift.
A personalized necklace with initials is a very thoughtful gift that the mom is sure to enjoy.  The initials can be the mom's initials or any other words or letters that are significant to her.
A personalized bracelet is such a thoughtful gift.   I would love to get either a silver or gold bracelet to wear in my third trimester and postpartum.
It's fun for a first-time mom to get to wear her very first mama sweatshirt!
A hand and footprint keepsake is something the expectant mama can look forward to using on her newborn.  This is such a great bonding experience and will be something she can cherish forever.
This set features a warm and vibrant deck of 20 uplifting postpartum affirmation cards.  It's hard having a newborn (especially if it's your first baby), and sometimes we all need a little reminder card to cheer us up and encourage us.
Last-Minute Baby Shower Gift
A diaper subscription for some nice quality diapers would be such a fun treat for a new mom.   Getting that special box of diapers on her doorstep is sure to make her smile.
32. Book of the Month Gift Membership
Does the expectant mom love to read books?   Gift the expectant mom a book-of-the-month gift membership so she can look forward to reading.
Wantable is a great way to mix up your wardrobe.  This would be a great gift that the new mom can look forward to dressing up her new postpartum body.
If the new mom loves reading, she might enjoy this gift to mix up the way she reads.
I love using them to work out and not having to worry about the cord getting in the way of my workout.  A new mom that might want to listen to music or podcasts would love this gift.
Practical Baby Shower Gifts
A sitz bath is a practical baby shower gift that the expectant mom would appreciate.  This is a useful gift that she would be very appreciative of!
Their postpartum care kit is a practical baby shower gift that she will enjoy post-delivery.
The pregnant mom can start applying Palmer's cocoa butter to her ever-growing belly immediately.  This skin recovery kit is a great one that also makes the new mom's skin smell amazing.
A neck and back massager pillow is a great gift to help ease pain from strained positions during pregnancy and childbirth.  This massager will ease discomfort for the new mom during postpartum nursing and from carrying the new baby.
Inexpensive Baby Shower Gifts
Nipple cream is always a great idea for an inexpensive baby shower gift.  You can pick out a couple, or just stick to one that you enjoyed.  There are even organic nipple creams available if you think the new mom would be interested in them.
You can't go wrong with getting a good quality stretch mark cream for her.
Pick out a helpful parenting book for the mom-to-be, such as What to Expect the First Year.  If there is a book they you particularly enjoyed that you are ready to pass along, you could even gift her your used book!
Wine is always a fun one to gift at a baby shower.  The new mom will be looking forward to drinking that bottle after the baby arrives.
You could buy some delicious cookies or bake up a batch of cookies yourself.
Most Useful Baby Shower Gifts for Mom Not Baby
45. Set Up a Meal Train
New moms are tired, busy, and overwhelmed during the first couple of weeks with a newborn baby.  By setting up a meal train, the new mom will have one less thing to worry about.
46. Cleaning Service
A cleaning service is a great gift for a pregnant mom.  It's hard to do a deep clean when you are in your third trimester and when you are recovering from childbirth.  I think gifting a deep clean service would be a thoughtful gift for the expectant mom that would have a big impact.
You could give a DoorDash gift card, or Uber Eats gift card, or place an order yourself for a special meal at her favorite restaurant.
48. Meal Prepping
Helping the new mom with meal prepping is a generous offer.  You could help her with the meal planning process in so many different ways, such as researching meals, purchasing ingredients for the meals, or cooking the meals.
Diaper delivery is a very useful subscription the new mom is sure to be grateful for.  It's wonderful to receive new diapers right on your doorstep.  Some popular diaper delivery services are The Honest Company, Amazon, and Hello Bello.
50. Doula Services
If the new mom is interested in having a doula present at her birth, why not chip in and help her pay for it?   She would be very appreciative of the offer to help with expenses towards her special birth experience.
Final Thoughts about Baby Shower Gifts for Mom Not Baby
Going to a baby shower is such an exciting time in your life! Finding a great baby shower gift for mom doesn't have to be so hard when you look at the list of top 50 baby shower gifts above!   You are sure to find something perfect for your friend or family member!
Also, be sure to check out the following related articles:
Best Diaper Raffle Prizes (Ultimate Gift Ideas)
40+ Unique Gender Reveal Ideas (Baby Reveal Ideas)
Be sure to save this post and pin it to Pinterest!
Share with friends and family on social media – Instagram, Twitter, or Threads!