Are you looking for the best non toxic laundry detergent for yourself or your family?
Non-toxic laundry detergents are perfect for sensitive skin.  They don't contain the harsh chemicals that can cause allergic reactions that are found in many commonly used traditional laundry detergents that aren't free and clear.
The 20 best non toxic laundry detergents listed below are a combination of liquid detergent options, detergent pods, laundry sheets, and laundry powders. Detergents that use natural ingredients and plant-based ingredients are good for human health while also getting out the tough stains.  There are so many exciting things about using a non toxic laundry detergent that once you start using one, you will never be able to go back to what you used before!
What is the best non toxic laundry detergent to use?
The best non toxic laundry detergent for you depends on your personal preferences.  The perfect choice for a laundry detergent that will consistently give you clean clothes, has no toxic chemicals or harmful ingredients and has strong cleaning power.  Your choice will depend on if you are okay with fragrances with essential oils or if you prefer a fragrance-free laundry detergent.  There are also different price points for each of the laundry detergents recommended below.  
Additionally, consider how important it is for you to use only plant-based ingredients or plastic-free packaging.  Laundry sheets are particularly useful for traveling because you can easily bring them on the go, whereas liquid laundry detergents might be best for you for other reasons.  The choice is yours to make and depends on your personal preferences.
Why should I use a non toxic laundry detergent?
Non-toxic laundry detergents have minimal or no concerning ingredients in them that can be toxic or harmful to human health.  The clothes, towels, and other items we wash daily or weekly come in contact with our skin and our bodies.  Just like we care about the food we put into our bodies, we need to also consider the laundry detergent that will interact with our bodies as well.
Main Chemicals to AVOID in Your Laundry Detergent:
Ethoxylates, which may contain the harmful byproduct 1,4 dioxane during ethoxylation
Synthetic fragrances
Optical brighteners, such as disodium distyrylbiphenyl disulfonate
Known carcinogens, such as formaldehyde, benzene, or ethylene oxide
Endocrine disruptors, such as nonylphenol ethoxylates
Sodium lauryl sulfate, which is very harmful to aquatic life and can be contaminated with carcinogens
Is Tide a non toxic detergent?
No. Tide is an example of a toxic detergent that contains many of the harmful ingredients listed above.   Of primary concern is 1,4 dioxane (a chemical ingredient created as a by-product of the manufacturing process) that was banned by the state of New York.
Don't forget! Pin this post to Pinterest to read again later!
Available as a liquid detergent or laundry powder
This is a high-quality detergent that is very effective at cleaning laundry whether your pick laundry powder or liquid laundry detergent.
Best non toxic laundry detergent with no harsh chemicals
It has no harsh chemicals, which means it's gentle on your skin!  It's a good feeling knowing that your clothes only contain pure chemicals.
One of the safest laundry detergents
Safe laundry detergents mean you can relax knowing you are using the best laundry detergent you could find.  Molly's Suds is also an environmentally conscious brand!
Available as laundry pods or liquid detergent
Seventh Generation Free & Clear also has a laundry detergent for infants which I have also personally used on my babies.
Best choice for Sensitive skin
There are no harsh chemicals in this liquid laundry detergent.
No toxic chemicals
Seventh Generation concentrated liquid laundry detergent has no smell and no harmful chemicals.
Dissolved quickly in cold water or hot water
The exciting thing about this non-toxic laundry detergent is how quickly it dissolves in water no matter how hot or cold the temperature.
The ingredient list has safe ingredients
This laundry detergent is free from phosphate, chlorine, and colors.
Comes in an all-natural baby laundry soda
Are you looking for a detergent for your baby that's non-toxic?  Nellie's has an all-natural baby laundry soda that is the best non-toxic laundry detergent for babies!
Free from harsh chemicals
Earth Breeze laundry Detergent Eco Sheets are an excellent non-toxic laundry detergent choice and free from so many harmful chemicals.
Doesn't cause skin irritation or allergic reactions
The laundry eco sheets eliminate any mess family makes from using liquid laundry detergent, and are not pods that don't fully dissolve.
Best non toxic laundry detergent with no artificial fragrances
There are no artificial fragrances to worry about which means less skin irritation or skin issues.   It's conveniently available online on Amazon.
5. Branch Basics Laundry Kit
Plant-based ingredients
It works by mixing a concentrate into water to make the laundry detergent.  The non-toxic concentrate model allows you to clean your laundry in a safe, simple, and affordable way.
No synthetic fragrances
The Branch Basics Laundry Kit only contains a handful of ingredients, none of which are synthetic fragrances.  The bottles are also refillable to save the environment (and your wallet).
Safe laundry detergent
This safe laundry detergent boasts several impressive eco-friendly certifications, such as EWG verified, Made with Safe Ingredients, and Leaping Bunny.  
Eco Friendly Products
Dropps Active Wash Laundry Detergent Pods are unscented and packaged in low-waste packaging that has minimal impact on the environment.
Best Choice for detergent pods
The pods contain 5 active enzymes that clean every type of stain, including blood, mud, and grass stains.   These are the best non-toxic laundry detergent pods out there (if you're looking for pods specifically).
Safer alternatives for clean laundry
Dropps Pods are free from dyes, phosphates, phthalates, optical brighteners, and parabens.  The pods are also vegan and have never been tested on animals.
 Strong cleaning power
With Mrs. Meyer's Clean Day Concentrated Laundry Detergent, you will get a gentle yet effective laundry detergent performance.
Garden-inspired scent boosters
The honeysuckle scent is a beautiful and fresh scent that will bring a smile to your face.
Clean laundry
The best thing about having clean laundry from Mrs. Meyer's products is that they are made with cruelty-free formulas and a Leaping Bunny certified.
Free of artificial fragrances
The ingredients list is comprised of baking soda, washing soda, vegetable soap made with organic coconut oil, and organic essential oils.  I love how the ingredients are listed right on the front of the label in a fairly large font, as opposed to most ingredient labels that are hard to read and hidden in the back of packages.  This just shows you how proud Meliora is of its short and simple non-toxic ingredient list.
Plastic-free packaging
This concentrated powder detergent is packaged in a reusable steel canister that can be refilled or recycled once you are done using it.
Low-waste detergent option
Only half a teaspoon is needed per HE load, and one 6" by 4" can of this lavender laundry powder can power 128 full HE loads.  
Natural ingredients
Charlie's Soap Laundry Powder is fragrance-free, hypoallergenic, and septic-safe.
Gentle for sensitive skin
I love that this plant-based laundry powder causes deep cleaning but is gentle for sensitive skin.
Perfect choice for powdered laundry detergent
This eco-friendly cleaning powder is one of the best out there!
Best choice for very sensitive skin
ECOS Laundry Detergent is 100% vegan, paraben and phosphate-free, and Safer Choice certified.
Hypoallergenic detergent option
It is comparable to Seventh Generation Free and Clear at a less expensive price point.  
Unscented with no synthetic fragrances
The formula that ECOS uses was created using enzymes that naturally occur in nature.
Plastic-free packaging
I love how the packaging for these Unscented Kind Laundry Detergent Sheets is zero-waste and plastic-free!
Plant-based ingredients
These award-winning sheets contain NO starch, which is a filler ingredient that leaves residue on your clean laundry.  You will get 60 sheets per box, and the price comes out to as little as $0.30 per load.
A good option for traveling
The 100% recyclable package means you can enjoy a guilt-free time traveling with them.  There is no mess involved with these, and they get the job done efficiently at home or on vacation.
Best choice for all-natural powder detergent
EnviroKlenz Laundry Detergent is free from:
Fragrances
Chemicals
Masking agents
Parabens and phosphates
Enzymes
Unscented detergent option
I prefer completely unscented detergent in my laundry room, and this is a good one that is non-toxic and fragrance-free.
Safe laundry detergent
This is an all-natural powder detergent that is made with minerals and salts, and has a patented odor-fighting technology that just works!
Perfect choice for zero waste sheets
These laundry detergent sheets create zero plastic and zero waste.
No harmful ingredients
These Fairy Sheets are plant-based and made from coconuts.  Packaged in a lightweight recyclable box, this is a great plastic-free way to do laundry.
Dissolves within seconds in cold water or hot water
Fairy Sheets can be used in a front-loading washing machine or a top loader.  In addition, use Fairy Sheets to hand wash your clothes.  For a normal load of laundry, only on pre-measured laundry sheet is needed to throw into the machine.
Gets out tough stains
Puracy Liquid Laundry Detergent is 99.4% plant-based and gentle on the skin.
Best choice for concentrated formula
If you are looking for cleaner and fresher clothes without harmful chemicals, this is a great plant-based laundry detergent.  Puracy's Liquid Laundry Detergent bottle label describes its target audience being "for those who care as much about their clothes as the skin underneath it."
Developed by doctors for people with sensitive skin
This is a great "green" laundry detergent that contains no sulfates, bleach, brighteners, or other toxic ingredients that are hidden in the ingredients list of so many other liquid detergents.
Plant-based ingredients
Truly Free Laundry Detergent deep cleans without using any harmful ingredients.
Makes clean laundry
It uses plant-powered cleaning agents and it's perfect for pillowcases, bedding, baby clothes, and intimate apparel.  
Perfect choice for refillable laundry detergent
The product works by filling the plastic jug with warm water to the fill line and adding the contents of the refill pouch into the jug.  Shake the jug, and it's good for washing up to 50 loads!
Scented with essential oils
Rebel Green has an organic fresh laundry detergent that is scented with fresh lavender and grapefruit.
Plant-based ingredients
The power and safe formula is cruelty-free, paraben-free, phosphate-free, and sulfate-free.
Sulfate-free detergent option
This sulfate-free detergent option is gentle on all skin types and features a vegan formula accented with essential oils.
Excellent choice for natural detergent
Dirty Labs Laundry Detergent is one of the best non-toxic laundry detergent choices.
No harmful ingredients
This hyper-concentrated formula can be used for high efficiency as well as standard washing machines.
Environmentally friendly liquid detergent
Dirty Labs laundry detergent is a bio-liquid laundry detergent that removes stains and odors effectively.
No added fragrance or artificial fragrances
It's a concentrated and versatile formula that works for deep cleaning so many things around the house.
Vegan liquid laundry detergent
This is a vegan liquid laundry detergent that is made with organic oils and is biodegradable.  The best part is that it's also perfect for people who are sensitive to chemicals or smells.
Best choice for Non-GMO
Dr. Bronners soap when used as a laundry detergent is an inexpensive and eco-friendly solution for cleaning your family's clothes.
Gentle on sensitive skin
Definkify Liquid Laundry Detergent is a detergent with odor-crushing and stain-removing powder.
Removes tough stains
The odor-crushing formula that Defunkify uses has deep-cleaning and powerful enzymes that work fast to remove all the odors and stains you want to get rid of.
Best non toxic laundry detergent for cold water performance
While you can use hot water with Defunkify laundry detergent, this detergent does not rely on hot water to do the cleaning.  Therefore, you can use cold or hot water and still expect stellar results.
Eco-friendly detergent
ATTITUDE is a Canada-based company and has a gorgeous facility where they manufacture their laundry detergents on-site.
Plant-based ingredients
It's one of the best plant-free and non-toxic laundry detergents that are free of harmful chemicals.
Gets out tough stains
This laundry detergent gets the stains out, is gentle on sensitive skin, and doesn't leave any sort of residue on your clothes.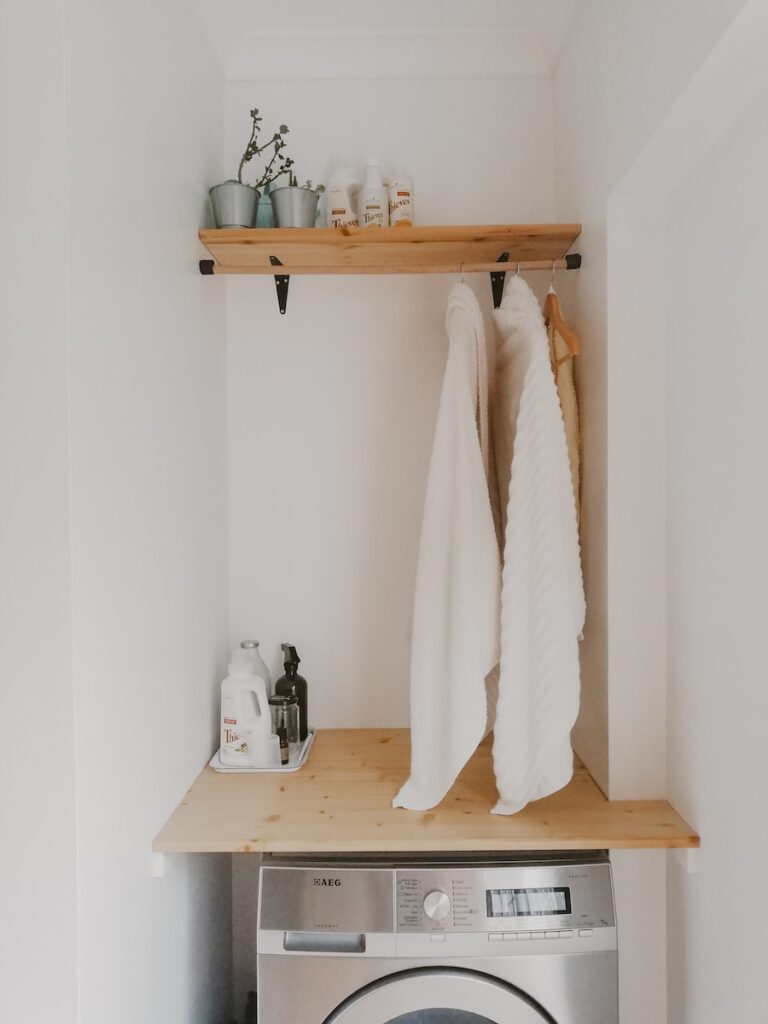 Final Thoughts on The Best Non Toxic Laundry Detergent
Now that you have read all about why you need the best non toxic laundry detergent in your home, hopefully, you have decided to try out one of the amazing choices on this list!
It is so rewarding to use a non toxic laundry detergent that you know is safer for yourself, your partner, your children, babies, and the environment. I can't think of any reason why anyone shouldn't prioritize using a non toxic laundry detergent in their life!
I know that by reading through this list you will find the best choice for YOU.
If you found this article helpful, be sure to follow us on social media for more parenting advice and more!
You may also be interested in these posts:
12 Best Mud Kitchens for Kids (With DIY Ideas)
Best Black and White Toys (High Contrast Toys)
Pin this post to Pinterest! Share it with friends, family, and the rest of the world on Twitter, Instagram, and Facebook!