This post may contain affiliate links. That means we may make a small commission on items purchased through links in this post at no extra cost to you!
Bubble Letter S Introduction
Welcome to Bubble Letter S!
Here you will find free printable bubble letter S templates for uppercase S and lowercase S. These can be used for educational, crafting, and DIY purposes. Some fun things to do with printable bubble letters include: using them as letter stencils, coloring worksheets, flashcards, or coloring pages. Free alphabet resources are fun because you can print them as many times as you want!
The simple alphabet letter S templates can be perfect for practicing cutting skills, letter sounds, and working on coloring skills. The letter S is popular in my house because my oldest son's first name starts with the letter S. So we are always looking for fun and free printable letter templates of the uppercase letter S for him to color!
Adults can use the free printable letter S templates to trace, color, and decorate.
What is included in this post?
Free Printables
Enjoy free alphabet letter S resources that print in PDF format on 8.5″ by 11″ paper. Available in uppercase and lowercase sizes, these letter S templates are perfect for printing off and using as stencils. In addition, there is also a visual guide to how to draw the bubble letter yourself. This can come in handy as you start drawing your own bubble letter words for signs, scrapbooking, and posters.
Step-by-Step Drawing Tutorial
Drawing your bubble letters is a dream that can come true today! There is a simple four-step drawing tutorial guide in this post that will lead the way on how to draw the letter S. This is available for instant download as a visual aid. You can feel free to save it to your device to come back to in the future!
Recommended Products
Free printables are great for many reasons, but sometimes you need to buy alphabet letters made of wood, plastic, or other materials. These serve different purposes, such as for party decorations, educational activities, or crafting DIY projects.
Explore the products below and see if they are just what you need for a future project, party, or activity! I worked hard to research some good quality products that you will enjoy.
Here are some quick links to the alphabet letters now, or continue scrolling to the bottom of the post for a detailed image and description of each one:
Above all, feel free to scroll down to the section of this post that you are looking for by using the convenient Post Quick links table shown below. Have fun!
Don't forget! Pin this post to Pinterest to read again later!
How to Draw Bubble Letter S: Free Printable
Be sure to save, download, and print this free printable of how to draw the letter S! It includes all four step-by-step visual instructions on how to draw your very own uppercase letter S.
How to Draw Bubble Letter S in 4 Steps
Step 1: Draw a small line to the right then a U-turn curve backward to the top of the letter.
Step 2: Continue drawing a line to the left then a larger curve around the left side of the letter that stops in the middle of the letter.
Step 3: Draw a sharp turn back to the left, followed by a U-turn curve that juts out towards the left and ends up in the bottom center of the letter.
Step 4: Draw a larger circle that juts out toward the right side of the letter and then connect the letter outline. Add some lines to add depth. You're all done!
Bubble Letter S: Free Printable
Here is a free printable of Uppercase S to use for all kinds of activities.
Lowercase S Bubble Letter: Free Printable
Enjoy this free printable lowercase S available for instant download as a PDF.
Bubble Letter S Recommended Products
If you are looking for alphabet decor that you can hang on the wall, alphabet craft letters that you can paint or decorate, or fun alphabet resources for kids, you need to check out these products below! I have personally checked them out myself. You won't be disappointed!
Decorative Letters
This letter S is such a pretty rustic letter for a child's nursery, a bedroom, a bathroom, or a kitchen. It is ready to hang on the wall when it arrives. The size is 16″ tall by 16″ wide, and 1/2″ deep. It's a gorgeous distressed letter that can be used to make any room or outdoor setting more rustic.
Letter Crafting
I love this value pack of wooden letters that can be used for so many uses. It's the perfect gift for kids, teens, and young adults interested in crafting activities. There are 172 pieces in the set, and numbers and symbols are included too. These smooth letters are perfect for painting and crafting.
Wooden Wall Letters
I love how classy this letter S looks in a nursery room! It would look great in a variety of settings. It's a great deal for the price and you get a solid wood and finished letter. Available in multiple letters of the alphabet.
Letter Decor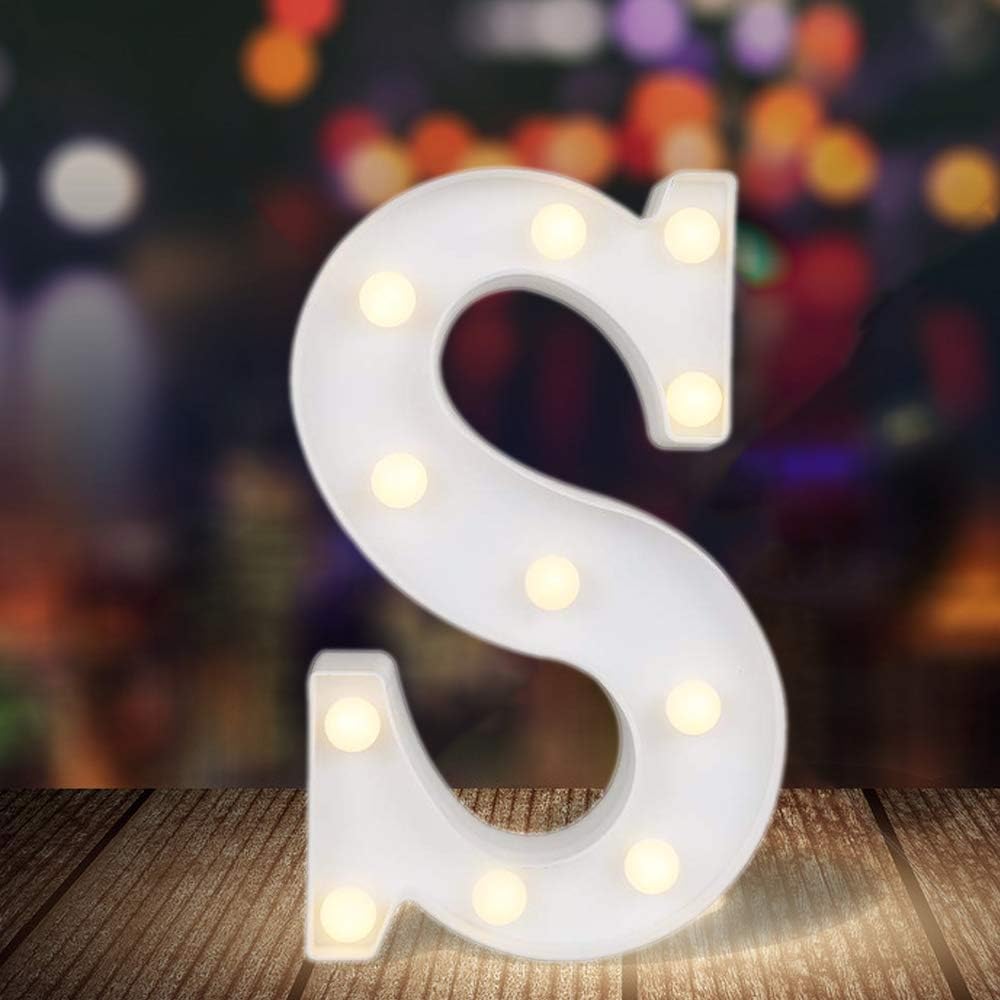 This white 9″ letter S decor is a great gift, lightweight, and excellent value for the money. When it lights up, it glows beautifully. Available in other letters and numbers.
Final Thoughts on Bubble Letter S
Enjoy all the free printable resources provided on this page! be sure to take the time to learn how to draw the letter S as a bubble letter. The easy-to-follow guide is only 4 steps. The free PDF printables are fun for tracing, coloring, and stenciling. I hope you enjoyed the alphabet products recommended above for your crafting and decor needs.
Save this post! Be sure to bookmark it and pin it to Pinterest. Share with friends and family on Twitter and Facebook.
I think you will enjoy the following resources as well!
Alphabet Bubble Letters