This post may contain affiliate links. That means we may make a small commission on items purchased through links in this post at no extra cost to you!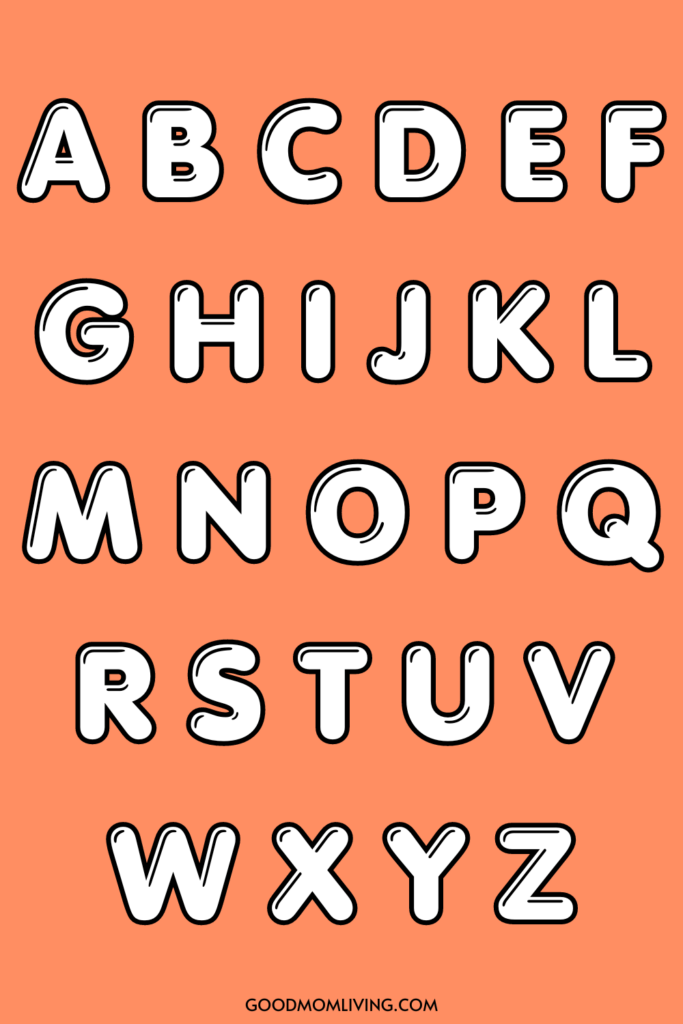 Are you looking for a complete list of free printable bubble letters alphabet templates?
You have stumbled upon the right place!
Here you will find all things bubble letters! This IS the ultimate bubble letters hub for all your needs.
There are completely free printable A through Z alphabet pages with all the letters on a single page as well as individual letters on individual bubble letter alphabet PDF file pages.
Simply click the image or follow the link to be directed to the correct file or page with additional bubble letter free printable downloads.
Once you have printed off your bubble letter or bubble letter alphabet page, you can color your letters different colors, add a drop shadow or other cool effect, and enjoy a plethora of options for how to use your bubble letter printables.
Check out the fun coloring essentials below that you can use to color your bubble letters!
Don't forget! Pin this post to Pinterest to read again later!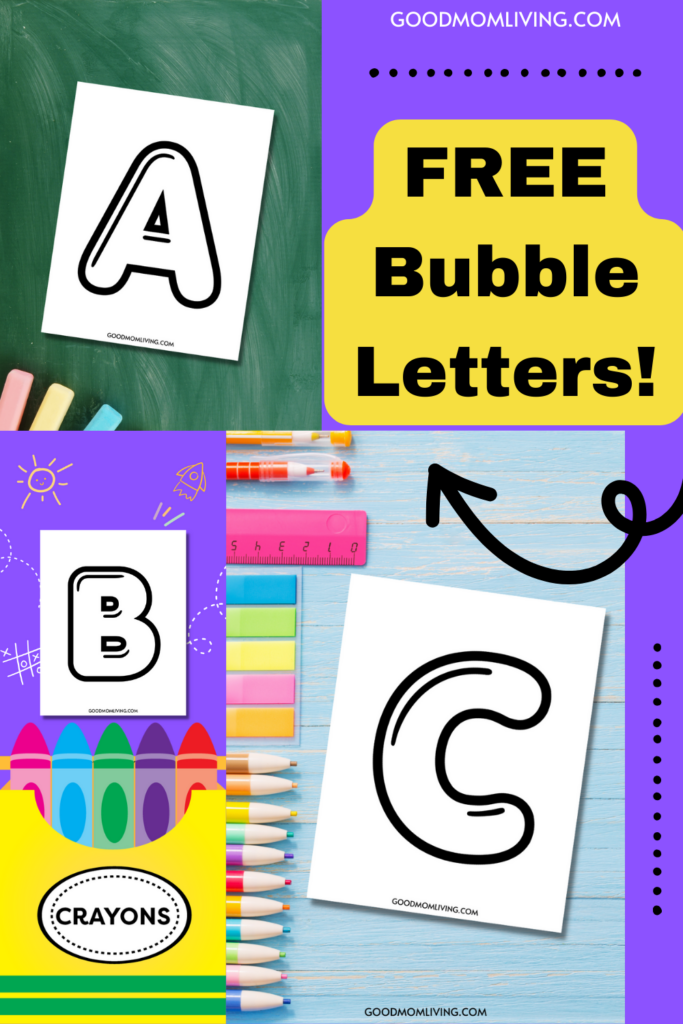 Free Printable Bubble Letters Alphabet
Whole Bubble Letters Alphabet with Individual Letters
If you are looking for whole bubble letters alphabet templates with individual letters, look no further. Here you will find all the bubble letter resources you need to be hooked up with each of the letters. Simply click on the image and you'll be redirected to the correct bubble letter page. Bubble letters are such a great way to learn the alphabet with your children.
Click on the Bubble Letter of your choice:
Bubble Letter Alphabet
The Entire Alphabet of Uppercase Bubble Letters
If you need an entire English alphabet of all the uppercase bubble letters, you can click on the links below to find the exact letters you need. All the letters of the entire alphabet are available for you here in PDF format to download on 8.5" by 11" computer paper. There are so many fun ways to use bubble letters, especially individual capital bubble letters such as these. Print your favorite capital letter on your own piece of paper with a white background for best results.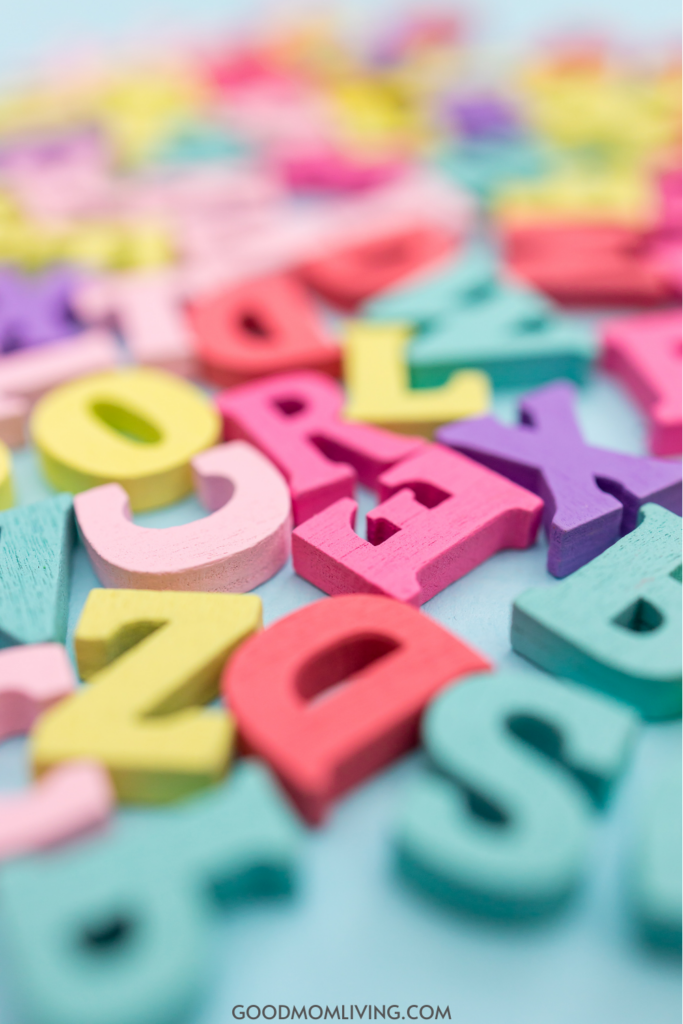 Printable Bubble Letters
Lowercase Bubble Letters
If you need to have lowercase bubble letters for your next project, you can find all the lowercase letters of the alphabet here all in the same lettering style. You will be amazed at how easy it is to download your own lowercase bubble letter alphabet printables. Click on the link for the lowercase letter you need, and download the lowercase letter from the page that you are redirected to. These free graffiti bubble letters alphabet templates are available to you for personal use only to share with friends and family (no commercial use allowed).
Free Printable Letters
If you need either an uppercase or lowercase version of these bubble letters, look no further. Here are instant downloads of the entire alphabet A through Z on a single PDF page. Simply click on the image to download and print your alphabet page. The entire alphabet is available in both uppercase and lowercase letters. Enjoy using these smaller letters to trace, cut out, color, or tape to your refrigerator. These fancy letters are free alphabet letters that anyone will enjoy.
Bubble Font Lowercase Letters
Download your FREE lowercase bubble letters from A through Z on one PDF page! Click on the button below or the image below to download your copy today!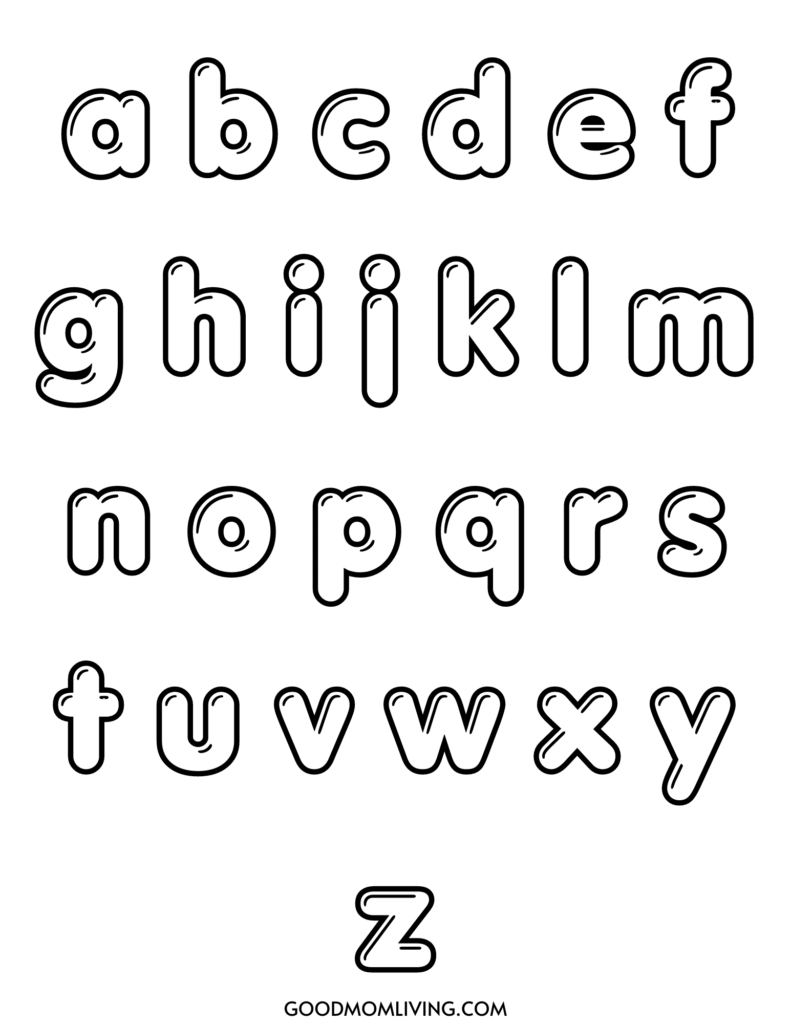 Big Bubble Letters
Download your FREE uppercase bubble letters from A through Z on one PDF page! Click on the button below or the image below to download your copy today!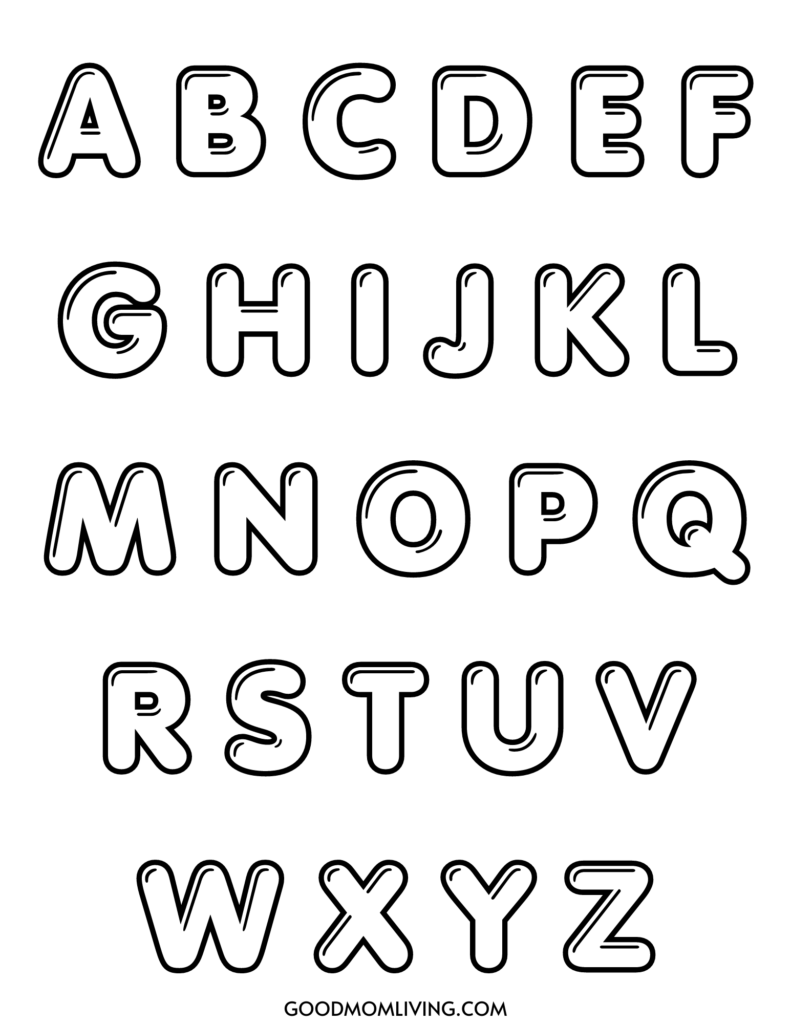 Bubble Letters Printable School Projects
Do you have a school project coming up that requires you to use bubble letters?
There are so many fun ideas you can use these printable bubble letters for in a school project. Here are some of the best ways to use your printable bubble letter templates:
Traceable Bubble Letters
Have fun tracing your bubble letters!
You can cut out the bubble letters and trace them onto another surface. For example, you can decorate a bulletin board with words you traced yourself. You can adjust the size of the letters in each PDF file by customizing the scale! When the print window appears after pressing the "Print" button, you can click on "Custom Scale" to either decrease or increase the size that is printed. The default setting is set to 100%. This would be perfect if you want the exact size shown in the printer preview. However, if you want to print multiple letters the same size, make sure to take note of the custom scale size you picked for your first letter and keep using the same size for all the letters!
You can cut out the letters and trace around them onto fabric, plastic, wood, or other materials.
You can put another piece of paper over the printed letter and trace on top of the letter. This will only work if the paper or material on top of the printed letter allows you to see through to the letter outline underneath. For example, this would probably work for sheer material, white computer paper, scrapbooking pages, paper or plastic bags, and more.
Tons of Games with Bubble Alphabet Letters
There are so many games that can be played using this fun and FREE set of printable alphabet bubble letters! All it takes is a little imagination, a printer, and some fun ideas! Take a look at some the best ways for toddlers, preschoolers, and elementary school kids can play bubble letter alphabet games of their own!
Free Printable Game Ideas
Matching Game
Play a matching game.
You can match the uppercase and lowercase letters together in pairs.
Try to create words out of the letters and sound them out.
Practice phonics.
Identify and recognize the letters of the alphabet and match them in the correct alphabetical order from A through Z.
Match all the vowels together.
Pick out some of your favorite toys and match up the bubble letter they start with.
Flash Cards
Make your own letter flashcards.
Print off the letters in a custom-size font (try 25%) and cut them all the same size.
Print off the uppercase letters to make uppercase flashcards.
Print off the uppercase letters to make uppercase flashcards.
Mix and match the letters on the floor or on a table. Since they are a small flashcard size, they can all be placed in front of you and your child.
Try experimenting with letter recognition and phonics by having your child identify the correct letter and say the sound of the letter.
Experiment with both uppercase and lowercase letter flashcard sets. You can keep them separate from each other or you can mix them all into a single flashcard deck pile.
Scavenger Hunt
Design your own scavenger hunt inside or outdoors.
You can print off the PDF file of the entire alphabet (available in either uppercase or lowercase). This will be your scavenger hunt guide.
Next, you can place the individual copies of the bubble letters you printed in the designated search area of the scavenger hunt.
Some examples of where to do your scavenger hunt are in one room of your house, one floor of your house, in your backyard, in your classroom, at the park, and more.
You can use tape if you want to secure the letters.
Feel free to make it as hard or easy to find the letters as you want.
Have fun collecting the pieces of the paper with the individual letters and crossing them off your scavenger hunt key.
Crafting Project
Create a new art project.
Color your bubble letters with multiple types of mixed media.
You can use crayons, colored pencils, markers, pens, glitter, watercolor paint, acrylic paint, puff paint, and so much more.
Be as creative as you want. You can draw patterns inside the bubble letters.
Create a bubble letter coloring book by stapling your pages together.
Cut and paste your bubble letters into a scrapbook or on top of a bulletin board.
Tape your bubble letter on your refrigerator. You can do a new letter each day or each week and have your child focus on learning that specific letter. Or if your child is learning letters at school throughout the year, you can sync up the letter taped to the fridge with what they are learning at school!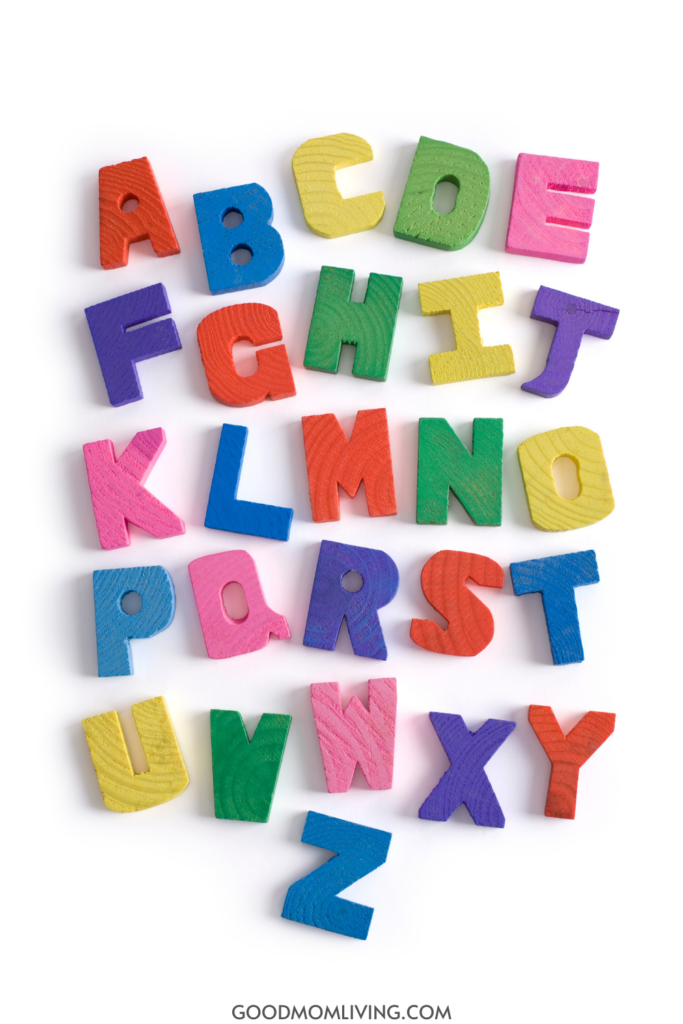 Final Thoughts
Printable bubble letters are such a useful tool to have handy!
Download and save these printable bubble letters in a place where you can return to!
Bookmark this page to refer to in the future. Your child will thank you! Or you may use these bubble letters for your own relaxation and enjoyment in your upcoming do-it-yourself projects.
Bubble letters are for everyone. Be sure to save them for future use when you need them. Try learning how to draw your own bubble letters in your spare time.
Children and adults all love bubble letters. It is so much fun to learn new lettering techniques and start teaching yourself how to draw bubble letters of your own. It's such a useful skill to have, whether you have school-age children, enjoy crafting, or simply as a hobby of its own.
If you enjoyed this post, be sure to check out all the other bubble letter pages linked to this post above. You will find the entire bubble letter alphabet on the pages linked in this post in both uppercase and lowercase letter formats.
Be sure to share this page on social media, pin it to Pinterest, and share it on Facebook! Leave a comment below if you thoroughly enjoyed these bubble letter pages!