This post may contain affiliate links. That means we may make a small commission on items purchased through links in this post at no extra cost to you!
Bubble Letter L Introduction
Welcome to Bubble Letter L!
The letter L is a wonderful letter with so many fun and educational uses. If you scroll down, there are free printables of the letter L for you to use for crafts, coloring sheets, and educational activities. Coloring these free printable letters is a great activity for children to help with fine motor skills, improve focus, and build on their coordination skills. Coloring is also a great activity for adults that helps promote relaxation.
What is included in this post?
Free Printables
All the free printables of uppercase L, lowercase L, and how to draw the letter L are located in this article. They are available for instant download in PDF format. The free printable paper size is 8.5″ by 11″ paper.
Step-by-Step Drawing Tutorial
It is so valuable to learn how to draw the letter L yourself. When you are done following this easy drawing tutorial, you'll leave with new knowledge on how to draw a new letter. Letter L is one of the easier letters to learn how to draw in bubble letters.
Recommended Products
Looking for alphabet letters for your next DIY craft, art project, or home decor? There are some pretty amazing options down below!
Here are some of the fun product recommendations I've rounded up for you:
Above all, feel free to scroll down to the section of this post you are looking for using the convenient Post Quick links table below. Have fun!
Don't forget! Pin this post to Pinterest to read again later!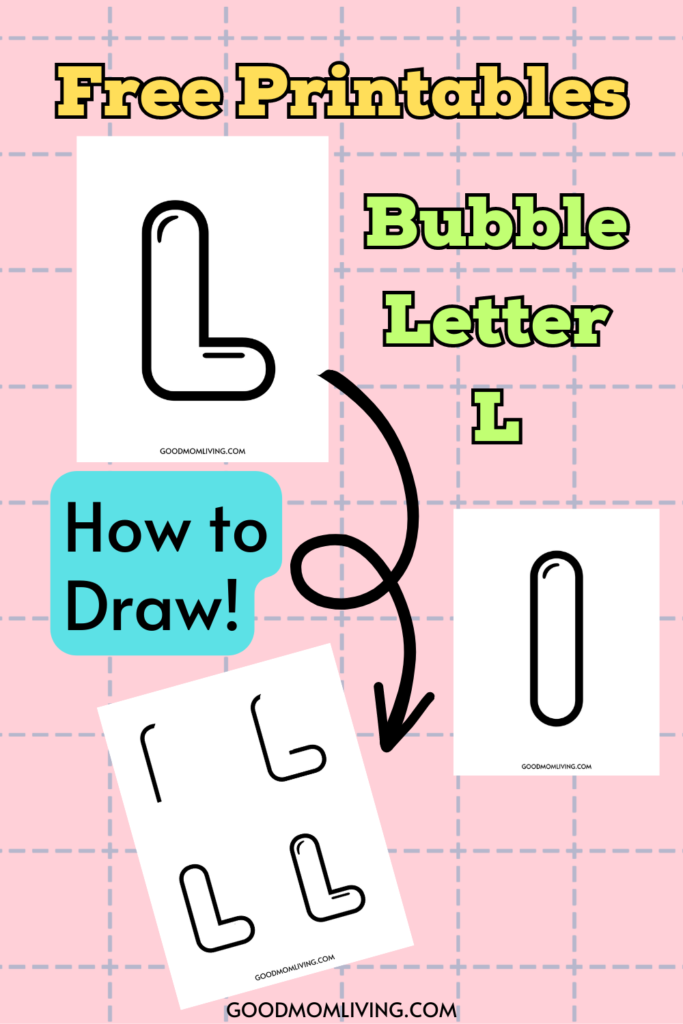 How to Draw Bubble Letter L: Free Printable
Be sure to save, download, and print this free printable of how to draw the letter L! It includes all four step-by-step visual instructions on how to draw your very own uppercase letter L.
How to Draw Bubble Letter L in 4 Steps
Step 1: Start at the top and slightly curve down and to the left. Follow the line down the left side of the letter.
Step 2: Draw a horizontal line to the right followed by a U-turn curve to the left. Stop the line at about the halfway mark.
Step 3: Draw a vertical line up and connect the letter outline
Step 4: Add some lines to add depth. You're all done!
Bubble Letter L: Free Printable
Here is a free printable of Uppercase L to use for crafts, coloring, and rainy day indoor activities. Use this free printable letter L for tracing, making flashcards, and playing games with your kids.
Lowercase L Bubble Letter: Free Printable
Enjoy this free printable lowercase L available for instant download as a PDF.
Bubble Letter L Recommended Products
Are you looking for alphabet stickers, alphabet wall decor, or bulletin board letters? Lucky for you, the top products in these categories are listed right here. Take a look at these handpicked products to get a headstart on that DIY project you've been excited about!
Alphabet Stickers
These alphabet letters are 1 inch tall and can be used as pantry labels, signs, scrapbooks, greeting cards, and posters. They are great for labeling containers and sites around the house. These black letters are a great price point that you won't want to miss.
Alphabet Wall Decor
This wooden rattan letter L is so pretty! It would be perfect in a baby's nursery or a boho bedroom. The style comes in all the letters of the alphabet so you can mix and match them. It is the perfect accessory to create a bohemian vibe in your home, office, or children's playroom.
Bulletin Board Letters
Here are some classy black designer letters that will look great on a bulletin board, breakroom, reception area, sign, and more! These elegant letters are 4″ tall and contain both uppercase and lowercase letters in the set. These are the perfect size with just the right amount of letter duplicates.
Final Thoughts on Bubble Letter L
I hope you've enjoyed all the free resources and printables outlined above in this article on bubble letter L. The free printables will come in handy when you need to do your next DIY project. The free letters can be traced, colored, decorated, and used as flashcards for children. Have fun learning how to draw the letter L using the free four-step drawing tutorial and visual guide.
Be sure to pin this post to Pinterest so you can revisit it in the future. Save it to Facebook and Twitter if you would like to share it with your friends!
If you enjoyed this post and all the free resources included in it, you will also enjoy these pages below. Have a look!
Alphabet Bubble Letters