This post may contain affiliate links. That means we may make a small commission on items purchased through links in this post at no extra cost to you!
Bubble Letter R Introduction
Welcome to Bubble Letter R! This is the ultimate page for all things related to the letter R!
You have arrived at the correct place if you are looking for free letter printables for tracing and coloring!
The letter R can be used in so many fun ways as a bubble letter. Use the free printables on this page to get creative with your crafts, DIY projects, and educational activities
Did you know that free printable classroom alphabet letters can be printed, decorated, and hung on bulletin boards? Letter templates can be printed multiple times as well for many children to use.
If you are looking for simple alphabet letter templates for the letter R, you've found the perfect letter templates right here.
What is included in this post?
Free Printables
Enjoy free printables of the alphabet uppercase letter R, lowercase letter R, and a drawing guide of the letter R. With the free printable letter templates, you can print them off to trace, color, and decorate. The drawing guide will give you the confidence to start drawing your letter without tracing anything. This is useful in so many ways. Being able to draw letters freehand will give you the flexibility to draw on multiple surfaces and using different mediums.
Step-by-Step Drawing Tutorial
Have you been looking for a step-by-step drawing tutorial to draw your own letter R? It can be hard to find an easy visual guide. Luckily there is a simple drawing tutorial in the post that will guide you the whole way through to draw the letter R in bubble letters.
Recommended Products
Amazon is full of so many alphabet products that it can be overwhelming to know which ones are truly good quality. I've narrowed down the best products for you to use for your classroom, home, or crafting projects!
You can find the recommended products by scrolling down to the bottom of this post, or clicking on the quick links right here to see them instantly!
Above all, feel free to scroll down to the section of this post that you are looking for by using the convenient Post Quick links table shown below. Have fun!
Don't forget! Pin this post to Pinterest to read again later!
How to Draw Bubble Letter R: Free Printable
Be sure to save, download, and print this free printable of how to draw the letter R! It includes all four step-by-step visual instructions on how to draw your very own uppercase letter R.
How to Draw Bubble Letter R in 4 Steps
Step 1: Starting at the bottom left corner, draw a vertical line to the top of the letter, then a shorter horizontal line to the top right corner.
Step 2: Draw a sizeable downward curve to the right side, then a diagonal U-turn Curve in the bottom right corner of the letter.
Step 3: Draw a small vertical line down followed by a U-turn curve that connects the letter outline.
Step 4: Draw a small D shape inside the top of the letter. Add some lines to add depth. You're all done!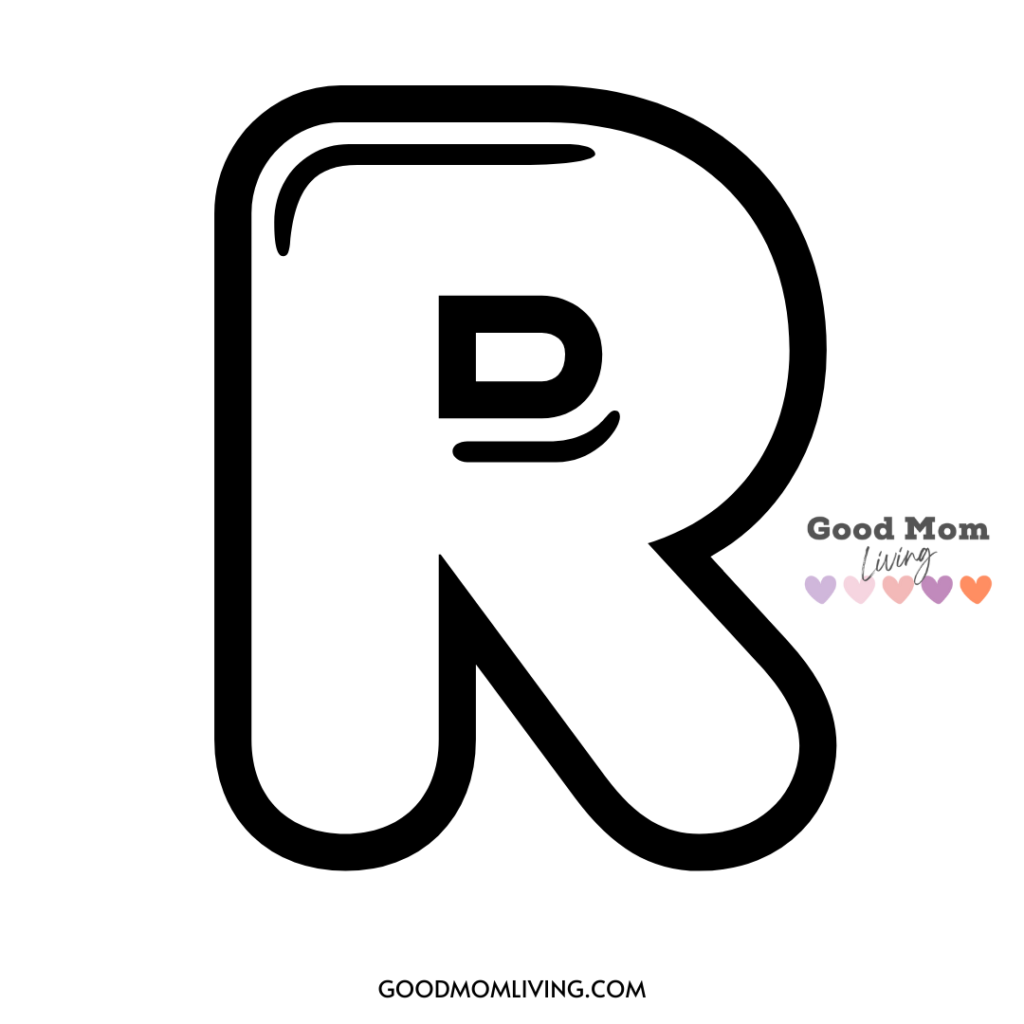 Bubble Letter R: Free Printable
Here is a free printable of Uppercase R to use for all your crafting, DIY, and coloring needs. This one is perfect for both adults and kids.
Lowercase R Bubble Letter: Free Printable
Enjoy this free printable lowercase R available for instant download as a PDF.
Bubble Letter R Recommended Products
Here are some of the most interesting and best-quality alphabet products on the market. They re all conveniently available on Amazon. Use these in your home for scrapbooking, decorating, and party decor. Use these for education teaching resources at home and at school. There are so many fun ways to use alphabet letters.
Letter Decor
This letter decor would make the perfect wedding decoration for a rustic wedding! It's very bright and elegant. These letters can be hung on the wall or placed on a table. They only require two AA batteries. Available in all letters of the alphabet.
Alphabet Puzzle
This alphabet puzzle is of excellent quality and has big, bright letters. There are fun and engaging pictures behind each block. Each block is nicely weighted and fits perfectly in little ones' hands. This is great for babies to hold the letters and start feeling them.
Wooden Wall Letters
This free-standing letter R can be used in the home or for your next special occasion. The letter is white and can be easily painted and decorated to fit your needs. The letter R is available in size 4-inch. Available in all letters of the alphabet plus a heart and an "&" symbol. These simple letters are so elegant for so many different uses.
Alphabet Magnets
These softly rounded foam letters are magnetic and can be placed on the magnetic board that accompanies the set! A lot of refrigerators these days don't work with magnets anymore, which is why I particularly like that the double-sided magnet board comes with the letters. This is the perfect toy for preschool kids, toddlers, and children learning how to spell simple words. Take this toy outside for a change of scenery!
Final Thoughts on Bubble Letter R
Have fun with all the free resources and recommended products in this article! I hope you learned something new, whether it was a new idea or inspiration for your next project. Alphabet letters are so fun for both kids and adults. Kids love to color and trace alphabet letters, and the free printable uppercase and lowercase letter R templates above are perfect for that. The free templates can also serve as stencils for adults who are looking for the letter R for their next crafting DIT project.
Be sure to save this post if you found it useful. Pin it to Pinterest, or share it with friends and family. Share it on Twitter and Facebook!
If you enjoyed all the free resources provided in this article, you will be sure to love these links as well! Thanks for stopping by!
Alphabet Bubble Letters