This post may contain affiliate links. That means we may make a small commission on items purchased through links in this post at no extra cost to you!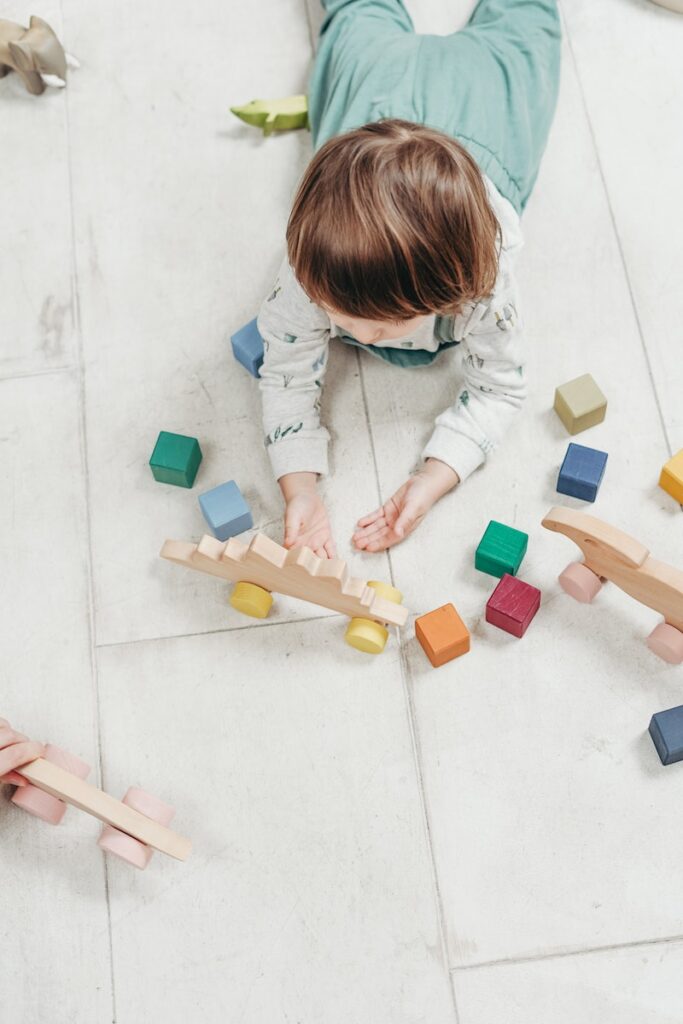 Montessori toys for 1 year old children are some of the best at providing a hands-on learning experience.   The Montessori Method of teaching was developed by Dr. Maria Montessori in the early 1900s.  Montessori classrooms today still follow the basic principles she endorsed.
Montessori classrooms have many positive aspects about them.  They encourage enhanced social interaction among a group of children that are mixed ages.  They value independence, confidence, and creative freedom.  The classrooms also cultivate a love for learning.
So how can you take some of the principles of the Montessori Method and bring them into your home for your 1-year-old?  Take a look at the best Montessori toys inspired by this method for your 1-year-old!   The recommended toys are educational toys that promote fine motor skills as well as gross motor skills.
You may even find the perfect Montessori gift for your child's first birthday!
Don't forget! Pin this post to Pinterest to read again later!
Favorite Montessori Toys for First Birthday Gift
Play Kits
Tiny Land has excellent play sets made of high quality materials with simple puzzles. It is also at an affordable price and contains a shape sorter, xylophone, hammer tray, sorting and stacking toys, and an exclusive parent guide.  This would be the best first birthday gift for your child or a friend or family member turning one year old!  This toy is exceptional at developing a child's fine motor skills and musical talents.
Climbing Toys for Imaginative Play
This is a 10-in-1 play gym that is great for toddlers that are eager to explore, climb, and play with this set.  Also, it's a play set that can grow with your child up to age 8 years old.  Here is a play gym set that will truly advance your child's athletic abilities, gross motor skills, and confidence.
Best Montessori Toys for Hand-Eye Coordination
Shape Sorter
This shape sorter includes 12 different shapes in 20 different blocks.  I love the wood and the shades of colors.  This would be a perfect gift for a 1-year-old's birthday or Christmas gift.   The blocks can be sorted by color or shape, and you will see your child's fine motor skills develop at a rapid pace while playing with this shape sorter.  This toddler toy is a great one to improve hand-eye coordination.
Busy Board Montessori Toys for 1 Year Old
I have this busy board! I love the company deMoca and both my kids loved it when they were around 1 year old.  This simple toy sparks so much creativity and curiosity with all the bright colors and interesting gadgets.  My kids loved the buckle, the zipper, and the shoelace!  Children will improve both their fine motor skills and their hand-eye coordination as they attempt to buckle, zip, tie, and unlock all the moving parts on this amazing and colorful busy board!  Did I mention how awesome this busy board is for keeping kids occupied while in the car?
Coin Box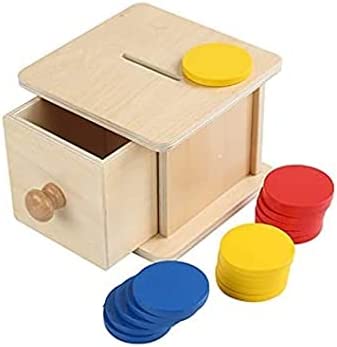 Coin boxes are a great way to improve fine motor skills in a baby or toddler.  It takes a lot of skill for them to be able to turn the coin into the correct angle to fit into the narrow hole.  But from my experience, once they figure it out, there's no stopping how many times they'll want to show off their newest skill!  A coin box is such a classic toy that my children always enjoyed around the age of one.  It's amazing to see how confident they become once they figure it out.  This is a great way to improve hand-eye coordination skills.
Gross Motor Skills for Young Children
Pikler Triangle, Rocker, and Slide Set
This is an excellent 5-in-1 wooden Montessori Set that has 3 pieces but multiple functions. The rocker can also be used as a climbing ladder.  The ramp can be used to climb up the bumpy side or slide down the smooth side.   The Pikler triangle, or triangle ladder, can be tilted as needed to make it the perfect height for your little one.   This 5-in-1 wooden play set is certainly an excellent way to improve your child's gross motor skills.
Balance Board
This wooden wobble balance board is the perfect open-ended toy for a toddler.  It has a smooth surface and is the perfect size for young toddlers as well as older toddlers.  It's a simple concept with lots of ways to play with it.  A balance board such as this one is a great way to develop your toddler's core, leg, and arm muscles.  It will provide plentiful hours of fun and entertainment that will last for many years to come.
 Educational Toys Made of Natural Materials
Wooden Toys
We have a wooden activity cube similar to this one and I have fond memories of my boys playing with it and exploring it. This wooden activity cube is a fun one and even has built-in shape sorters and a xylophone.  This educational toy is made of natural materials and will help your child improve their fine motor skills and problem-solving abilities in no time!
Wooden Puzzles
Your child will love exploring and learning about colors and shapes with this peg puzzle!  There is only one spot for each of the 12 shapes, so it will be fun to watch your child figure out where to place the shapes.  You can work on naming shapes, naming colors, and pincer grasping of the puzzle pieces.
This is a gorgeous puzzle.   The entire puzzle is a work of art! It would make a great gift too for a friend or family member.
Wooden Trays
These wooden Montessori trays are perfect for painting and crafts activities.  There are so many ways to use these trays, which is part of what makes them the perfect Montessori classroom-inspired toy!
Great Toys for Language Development
Classic Montessori Toys
A beautiful set that combines 8 classic Montessori educational games into one set.  This set of 8-in-1 Montessori Toys will cover the most important ways to develop fine motor skills as a young toddler.
Musical Instruments for Young Toddlers
Kids Musical Instruments Set (Similar to Monti Kids)
Buying your child's first music set is such an exciting experience.  You get to develop their love of music by letting them explore their very own musical instruments.  This set is a great one to start with.  The instruments are made of natural wood, which I like.  There is even a storage bag that comes with the set. You will watch your child play with this for years.  It's also a great gift idea for friends and family.
Great Ideas for Problem Solving
Sensory Board Montessori Toys for 1 Year Old
This is a great sensory board and busy board set that can even be taken on the go for road trips or on the plane.  There are multiple activities built into this Montessori travel toy, which will keep young children happy for a while.
Favorite Toys for Pretend Play
Plush Toys
Your baby can pull on the tissues and watch them come out of the box.  There is also a mirror, ribbons, and suction cups to attach to the highchair or bring out to restaurants and entertain your baby!   There are even numbers on the tissue box toy to start teaching your one-year-old.  Some of the activities include naming fruits, naming sea animals, numbers, fruits, undersea animals, and alphabet letters.
Pull Toy and Pull Toy
I love the soft colors of this activity walker.  Your child can explore the xylophone, mirror, and shapes puzzle of this push toy that also functions as a pull toy.  Push and pull activity walkers are great for a one-year-old that is just about to walk or already walking.
Final Thoughts about Montessori Toys for 1 Year Old
Montessori toys for 1 year old children are a great way to develop important skills.  Hand-eye coordination is one of the biggest skills that Montessori toys target.  Montessori toys are educational toys that will help with gross motor skills, language development, problem-solving abilities, and pretend play!
If your child is approaching their first birthday, be sure to include the toys on this list in their birthday wish list!
If you found this article helpful, be sure to check out these articles as well:
12 Best Mud Kitchens for Kids (With DIY Ideas)
The 9 Best Toddler Headphones for Plane
And lastly, don't forget to pin this Post to Pinterest! Share on social media with your friends and family!