This post may contain affiliate links. That means we may make a small commission on items purchased through links in this post at no extra cost to you!
Bubble Letter E Introduction
Welcome to Bubble Letter E!
E is a great letter. It's the letter of my first name, and it's the fifth letter of the alphabet.
Are you looking for free printables of the uppercase letter E and lowercase letter E? IF you scroll down, you'll find those! In addition, there is also a free drawing tutorial for you to learn how to draw your letter E in four simple-to-follow steps!
What is included in this post?
Free Printables
The free printables included on the page are for your personal use to print as many times are you want! You can download uppercase E, lowercase E, and A four-step drawing tutorial on how to draw an uppercase E. These free printables are in PDF format for 8.5″ by 11″ paper. However, feel free to play around with the printer settings and adjust the size of the letters by zooming in or out.
Step-by-Step Drawing Tutorial
As a bonus, we have included a step-by-step visual and written drawing tutorial that gives four easy-to-follow steps on how to draw your E.
Recommended Products
Lastly, at the bottom of this page, you'll stumble upon some of the best alphabet letter product recommendations available on Amazon. These are hand-picked products that I would personally recommend and are inspired by bubble letters.
Alphabet letter product recommendations include:
Above all, feel free to scroll down to the section of this post that you are looking for by using the convenient Post Quick links table shown below. Have fun!
Don't forget! Pin this post to Pinterest to read again later!
How to Draw Bubble Letter E: Free Printable
Be sure to save, download, and print this free printable of how to draw the letter E! It includes all four step-by-step visual instructions on how to draw your very own uppercase letter E.
How to Draw Bubble Letter E in 4 Steps
Step 1: Start at the top and draw a line going right. Then loop around and draw a line going towards the left that goes about halfway inward.
Step 2: Draw a tiny vertical line downward, then repeat the same process as Step 1.
Step 3: Draw another tiny vertical line down, then repeat the same curve as prior steps. However, this time extend the bottom line a little further to the left.
Step 4: Draw an upward vertical line to connect the outline of the letter and some lines to add depth. You're all done!
Bubble Letter E: Free Printable
Here is a free printable of Uppercase E to use for crafting, posters, bulletin boards, and more!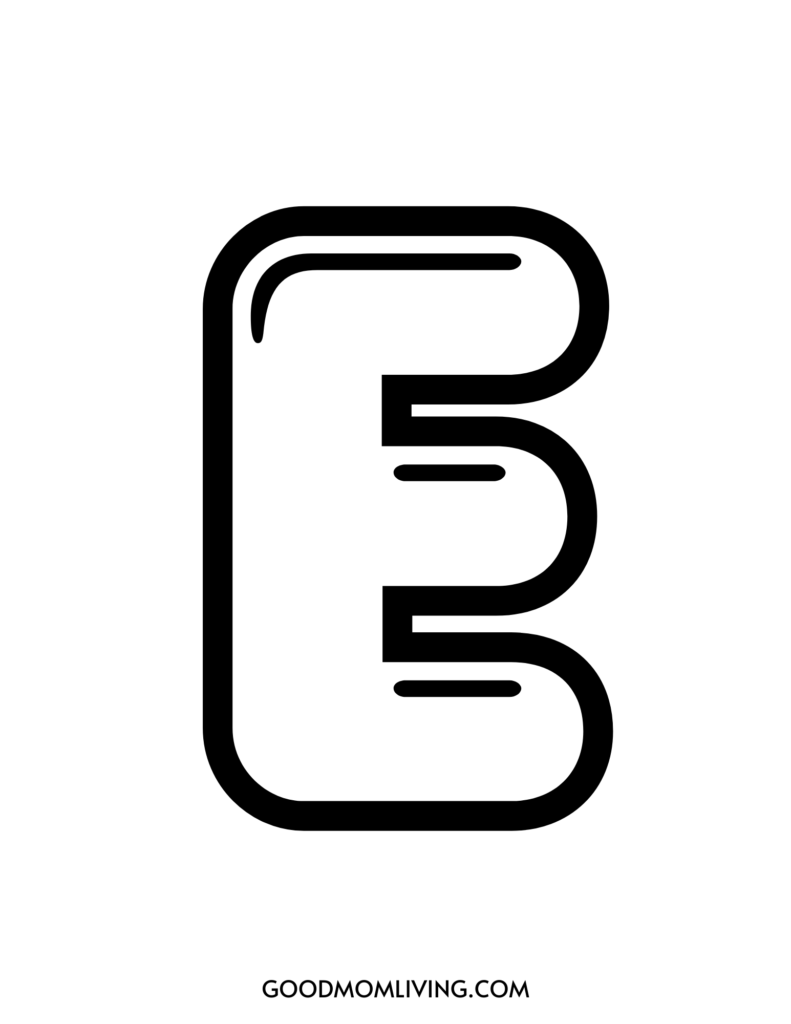 Lowercase E Bubble Letter: Free Printable
Enjoy this free printable lowercase E available for instant download as a PDF.
Bubble Letter E Recommended Products
There are so many alphabet letter products out there today. I've narrowed down the top products you can use for your next DIY project!
Alphabet Stencils
The beauty of these alphabet stencils is that they come in multiple sizes ranging from 3 inches tall to 12 inches tall. Included in this set are 26 letters and 10 numbers. These stencils are sturdy and flexible, and can easily be reused and washed down. They are ideal for painting and spray paint onto a variety of different mediums.
Alphabet Stickers
Glitter foam letters are ideal for scrapbooks, DIY cards, home decor, and posters. The self-adhesive backing on these glittery letters is strong enough that they won't fall off easily. The assorted colors are fun for kids and adults. There are 5 complete sets of alphabet letters that are less than 2″ tall.
Alphabet Wall Decor
Light up your favorite words for your next party! This LED letter light comes in all the letters of the alphabet. You can pick and choose your favorite ones! It's a plastic letter that is battery-powered with LED lights that illuminate a beautiful glow. You won't regret this purchase. Perfect for home decor or parties.
Craft Letters
Last but not least, here are some stunning calligraphy stencil craft letters you can use for banners, walls, decor, and DIY projects. These are really beautiful letters that include 2 full alphabet sets in 2 different sizes (large 4″ and small 2″). I highly recommend this set. It's a great value for its price, and can be used on so many surfaces! Best of all, the letters are reusable!
Final Thoughts on Bubble Letter E
So there you have it! This page has covered everything about the bubble letter E. There are some amazing free printables, a step-by-step drawing tutorial, and some outstanding product recommendations. If you found this page helpful, be sure to share it on Pinterest, Facebook, or Twitter! Here are some additional resources you may find helpful!
Alphabet Bubble Letters