This post may contain affiliate links. That means we may make a small commission on items purchased through links in this post at no extra cost to you!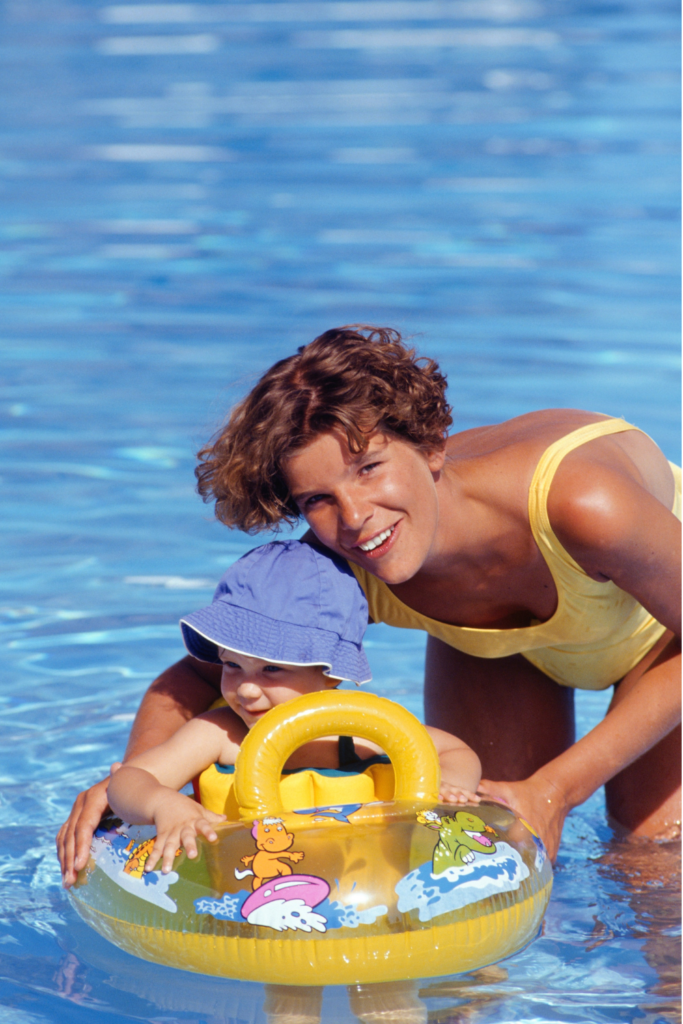 Finding the best baby pool float just got a lot easier! We have listed here the top picks for the best baby floats and highlighted the best features.  Whether your baby is a newborn, 6 months, or a year, there is a pool float for every baby.  One of the most important things to think about when choosing a baby pool float is the safety features.  Listed below are some of the most common safety features you'll find when searching for a baby pool float.
Here are the common safety features to look out for as your research baby pool floats. Continue to scroll down to see the ultimate top picks for the safest baby pool floats on the market!
Safety Features
Out of Direct Sunlight
It's important to keep your baby out of the sun as they play in the water.  It doesn't take a lot of direct sunlight to harm the baby's skin. According to the American Academy of Pediatrics, you must keep babies younger than 6 months out of direct sunlight.  One safe way to do this is to pick a baby pool float with a removable canopy.
Baby in Arm's Reach
Never leave your baby alone in the water and adult supervision is required. As long as you are in the water with your child, you need to keep them within reach. The American Academy of Pediatrics (AAP) calls "touch supervision" as making sure you are close enough to reach out and touch your child at all times. You should continue to use touch supervision for young children up to 4 years old.
Seat Straps
Look for baby pool floats with a high-quality safety buckle that is sturdy and durable, such as the Non-Inflatable MamboBaby Swim Ring Float. This baby pool float features a safety buckle with 5 support points for 360-degree full balance and protection.
Durable Material
Be sure that the material is skin-friendly, BPA-free, and moisture-proof. Look for a material that is also breathable, lightweight, and soft on your baby's skin.
Child Safety Valves
Double safety valves are a feature that provides greater security for your child in the water. The safety valves prevent air leakage.
Dual Air Chambers
Dual air chambers give greater stability in the water.
Easy Storage
Inflatable baby pool flotation devices may be the right choice for you if you're looking for a product that can be easily deflated and folded for storage.
Removable Sun Canopy
Most removable canopies have breathable mesh sides and offer UPF 50+ sun protection, such as the LAYCOL UPF50+ Sun Canopy Baby Swimming Float.
Leg Holes
Make sure the baby's leg holes are made of a comfortable material.  Mesh is a common comfortable material.
Keep Baby Upright with Safety Buckle and Shoulder Straps
Look for a product that includes shoulder straps with 5-point safety buckle protection to give the baby the option of swimming breaststroke or backstroke.
Weight Limit
Pay attention to the weight limits listed for each specific baby pool float to ensure your baby is within the range specified.
Risks of Using Baby Neck Floats
The U.S. Food and Drug Administration (FDA) issued a warning for parents on June 28, 2022, recommending that parents and care providers do not use neck floats with babies for water therapy intervention to prevent death or injury.
Top Picks for Best Baby Pool Float Overall
Weight Range: 13 to 40 pounds
Age Range: 3 to 24 months
The Mambobaby baby pool float is the overall best pick! It has a canopy and it is a non-inflatable solid baby float.  It's made from soft waterproof skin-friendly leather that gently touches your baby's skin.   There is a removable tail to prevent your baby from flipping backward.  Your baby can try out two different swimming methods with this baby pool float – breaststroke or backstroke.  Both swimming methods are safe because of the way the safety buckle and safety straps secure the infant at five support points. It's available in 11 different colors that you can pick from.  I would highly recommend this as the best pool float for babies and it can be rolled up and stored in the storage bag that comes with it. Here are the top recommended accessories you can also grab to make sure your baby is as comfortable in the pool as possible:
Best Baby Floats with Durable Material
Age Range: 9 to 24 months
The SwimWays Baby Spring Float Sun Canopy is a great choice for a premium baby product that comes with a patented inner spring design and adjustable sun canopy.  This is the newest and most premium baby float that SwimWays has to offer! The baby float is safe and secure, with a soft mesh seat and secure leg holes so the baby can kick freely underwater. As an added bonus, there is a mesh play space so your little one can have fun splashing and playing with little water toys for the pool! You won't want to miss this amazing way to help your baby become comfortable in the water! Available in multiple colors and designs. Retailers include Amazon and Target.
Great Option for Easy Storage
Age Range: 3 to 36 months
The Laycol Baby Swimming Pool Float is such a fun one that comes in different sizes! It comes with an air pump to inflate it and is particularly great for older babies who can sit up already.  It is easy to deflate and fold up to pack in your car to go to the beach or pool.  The sun protection from the removable canopy is a great way to keep the baby out of direct sunlight.  It creates such a great first swimming experience for babies that allows them to experience the water safely.  
Infant Pool Float with Pool Toys
Age Range: 6 to 36 months
This Ezigo Baby Pool Float with a UPF 50+ canopy has the cutest ocean animal toys attached to it.   The sturdy leg holes are made of comfortable mesh fabric.  It comes with a small hand pump which makes it easy to blow up.  The instructions make it easy to assemble.
Best Baby Swim Float to Keep Baby in Arm's Reach
Age Range: 8 to 24 months
The Poolmaster Mommy and Me Swimming Pool Baby Float is easy to inflate, very comfortable, and a great value for the money.  It's particularly great for moms, dads, caretakers, or swim instructors who want to be as close to the baby as possible while in the swimming pool.  There is an actual spot for adults to get into the pool float too for close supervision!  Although the Poolmaster Mommy and Me pictured above is only for one child, there is also a 2-child option as well.  The 2 child style is great for twins or two babies that are close in age and is what makes this a unique one.
Good Baby Pool Floats with Removable Canopy
Age Range: 3 to 24 months of age
The Alupssuc Baby Pool Float comes with a 0 to 120-degree-tilt removable UPF 50+ canopy and has great reviews.  Some of the best features of this particular product are the neck pillow, head pillow in front, breathable leg hole lining, and baby skin-friendly fabric.  The Alupssuc baby pool float comes in blue or pink.  It's is easy to inflate, provides excellent sun protection, and keeps the baby sturdy and upright while having fun in the water.
Inflatable Swim Floats for Pool Party
Weight Range: Max Weight 110 pounds
Age Range: 6 to 48 months
This fun car-themed large baby pool float is perfect for your little car lover.  It even comes with a steering wheel!  I know that when I take my kids shopping at the store and they are riding in the "car shopping cart", it immediately makes the whole trip more fun. The same thing happens when your baby is riding in this car! This would be a hit at a pool party and is adorable as well as functional. The sun protection canopy is built in and cannot be removed.
Final Thoughts on Best Baby Pool Floats
I think you can't go wrong picking any of the best baby pool floats shown above.  Make being in the water a fun experience for your baby and pick the best one to suit your individual needs! Grab a sun hat and sunglasses for your baby to make sure the baby has all the best accessories the next time you go to the pool!  If you're looking for a baby pool float to bring with you on your next vacation, also be sure to check out the best toddler headphones for toddlers to keep your child occupied in the car or plane!
Your baby will forever treasure their first times in the pool, so spending some money on a safe and fun baby pool float is worth seeing them happy in the water!