This post may contain affiliate links. That means we may make a small commission on items purchased through links in this post at no extra cost to you!
Bubble Letter H Introduction
Welcome to Bubble Letter H!
Here you will find all the information you need on free printables for letter H and alphabet letter product recommendations. In addition, there is a drawing guide that shows you step-by-step how to draw it too!
What is included in this post?
Free Printables
Who wants a free PDF of uppercase and lowercase H?
We have rounded up free printables of the letter H for you to use for personal use only. These can be printed on 8.5″ by 11″ paper and are ready for use via instant download. All you have to do is click on the "Download Now" button next to the PDF image of the letter H that you are interested in downloading. Feel free to adjust your printer settings and zoom in and out of the page to print the scale size you'd like for your next project.
Step-by-Step Drawing Tutorial
A special step-by-step drawing tutorial with four easy-to-follow steps for drawing the letter H has been included in this post as well. If you follow the easy steps, you'll be able to draw your own in no time.
Recommended Products
Last but not least, don't skip over the recommended alphabet-inspired products for you to apply to your upcoming DIY project, arts and crafts activities, and more.
Here are some of the recommended products shown below:
Above all, feel free to scroll down to the section of this post that you are looking for by using the convenient Post Quick links table shown below. Have fun!
Don't forget! Pin this post to Pinterest to read again later!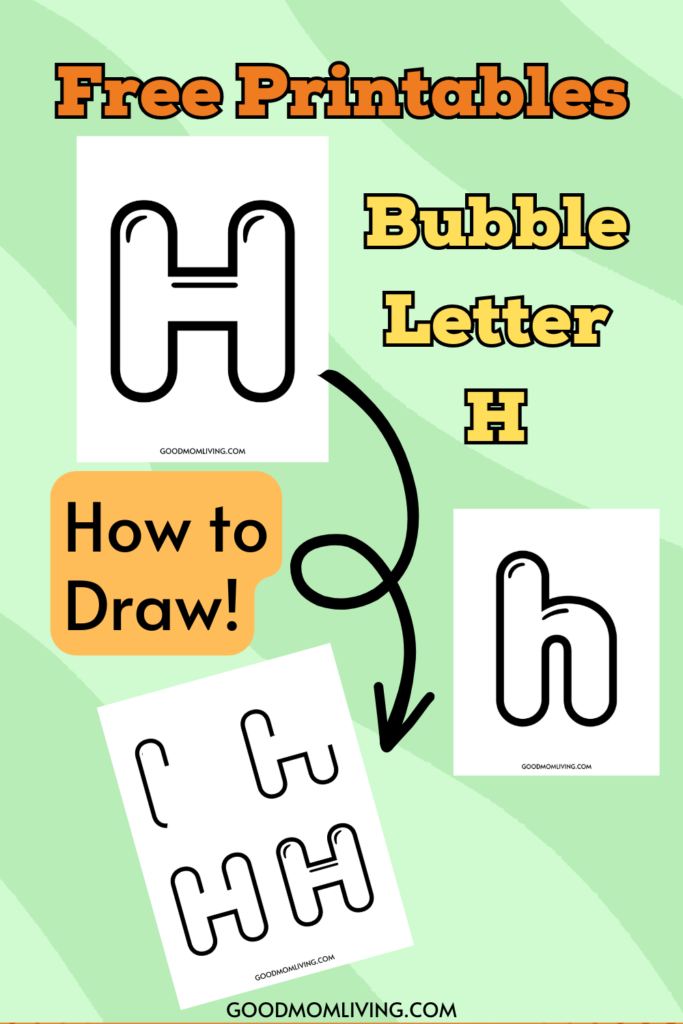 How to Draw Bubble Letter H: Free Printable
Be sure to save, download, and print this free printable of how to draw the letter H! It includes all four step-by-step visual instructions on how to draw your very own uppercase letter H.
How to Draw Bubble Letter H in 4 Steps
Step 1: Draw a short line up and then a small curved line down and to the left. Follow that line down the left side of the letter.
Step 2: Draw a small curve up and to the right about a third of the way up the letter. Then do a short horizontal line to the right, followed by another small U-turn curve to mimic the one of the bottom left of the letter.
Step 3: Continue the vertical line up the right side of the letter. Then do a small U-turn curve to the left then down about a third of the way.
Step 4: Draw a short horizontal line to connect the outline of the letter and some lines to add depth. You're all done!
Bubble Letter H: Free Printable
Here is a free printable of Uppercase H to use for all your arts and crafts purposes!
Lowercase H Bubble Letter: Free Printable
Enjoy this free printable lowercase H available for instant download as a PDF.
Bubble Letter H Recommended Products
Here are some of the best alphabet letter products for you to use for bulletin boards, crafting, DIY projects, scrapbooking, home decor, and more!
Bulletin Board Letters
Now these are some fun fonts! These big 7″ fun font letters would make their perfect classroom addition. These are great for poster boards for work or school. The letters are sturdy and reusable.
Craft Letters
These bright and fun felt 1″ letters can be used in so many creative ways. There are 500 assorted letters in a variety of colors that are self-adhesive. These could be used for making your own greeting cards, scrapbooking, and other DIY craft ideas.
Alphabet Wall Decor
Here are some alphabet wall decal stickers that would be perfect in a children's classroom, baby's nursery, playroom, or children's bedroom. They adhere well to the wall, are easy to use, and are a breeze to install. Your room will instantly brighten up when you add these amazing letters to the walls!
Final Thoughts on Bubble Letter H
The letter H is such a fun letter with so many uses. The free printables you received today are available for instant download and can be printed, saved, and shared via email. If you found this post helpful, please pin it to Pinterest, or share it on Facebook or Twitter. Here are some additional alphabet resources you may find interesting!
Alphabet Bubble Letters