This post may contain affiliate links. That means we may make a small commission on items purchased through links in this post at no extra cost to you!
Are you searching for printable butterfly outline templates?
Here are the 30 prettiest butterfly outlines you'll find for free!
There are simple designs, realistic designs, artistic butterflies, and outlines of butterflies all here on this page.
Just scroll down and save, download, and print your favorite butterflies.
Remember that these butterfly coloring sheets are intended for non-commercial use and personal use only. Feel free to download the coloring pages and print them on regular printer paper as many times as you would like to for yourself, your child, your friends, and your family!
It's so much fun to color butterflies! You can color butterflies all year round and have a great time doing it. Butterflies are such elegant and beautiful insects.
REMEMBER: Get Your COMPLETE Set of These Coloring Pages >> HERE
Don't forget! Pin this post to Pinterest to read again later!
Color Different Types of Butterflies
1. Simple Butterfly Outline
Here you will find the perfect simple butterfly outline for all your coloring needs. The butterfly shape is ideal for printing on a white background. These printable butterfly outlines are so much fun to decorate bulletin boards or scrapbooks! You can color these simple butterflies with colored pencils, gel pens, markers, puff paints, glitter, and more. The possibilities are endless.
2. Butterfly Shape on White Background
Download, save, and print these free printable butterfly templates as many times as you want. Remember, use these free printables for personal use only. These butterfly outlines were lovingly designed for people like you who love butterflies! Enjoy adding color to your white butterfly and hanging it up in a great place. You can also use these printable butterflies to design your next DIY greeting card. These printable butterflies are fun to color all year round, especially during spring and summer!
3. Free Printable Butterfly Outlines
There are so many butterfly outline images to choose from and all the butterfly outline templates are completely free for personal use. Enjoy coloring each butterfly's different wing shape. The monarch butterfly has such a beautiful butterfly design. Colorful butterflies make great decorations for home décor or parties. They are a great addition inside or outside your home. Print off these butterflies for your next child's birthday party, or throw them in the goodie bag for kids to take home.
REMEMBER: Get Your COMPLETE Set of These Coloring Pages >> HERE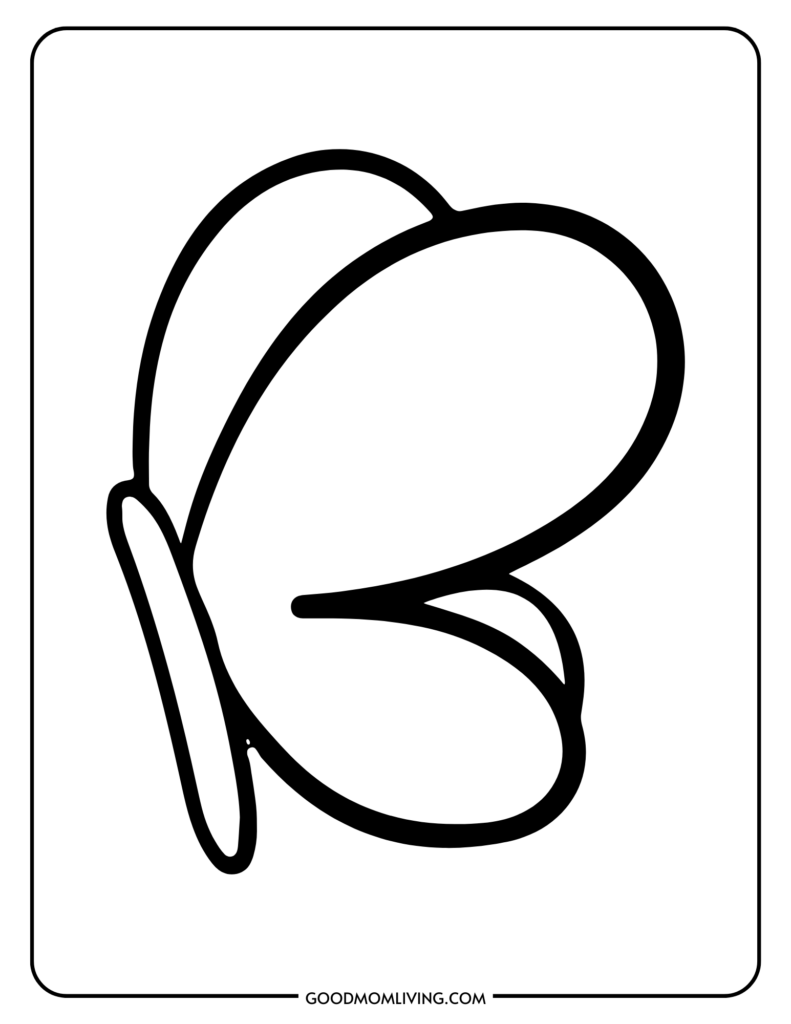 4. Free Printable Butterfly Templates
There are so many different types of butterflies. You can color a small butterfly outline below and color the butterfly's wings in vibrant colors. These butterfly coloring pages are available to you individually as a free download. Try coloring your butterflies first thing in the morning to have a great start to your day, or at night to relax and unwind. You can have fun tracing these butterfly images by placing another sheet of paper on top of the computer paper you printed the butterfly on.
5. Butterfly Silhouette
Color and print your beautiful butterfly stencil. Older children and younger children will both enjoy coloring these amazing butterfly outline images. You can color your butterfly your favorite color. I love to color a purple butterfly because purple is my favorite color! What's your favorite color?
6. Monarch Butterfly Design
Print off your favorite butterfly outlines and make a butterfly coloring book. You could also print off your finished butterfly and hang it up as a decorative element in your home. Another fun idea to do with your monarch butterfly design is to cut it out and tape or glue it to a popsicle stick! This is a fun idea for kids of all ages! Try to identify which species of butterflies you are coloring for an additional fun activity.
7. Butterfly Outline Images
Butterflies add such a beautiful design element wherever they are! Color your butterfly outline images and cut them out to display around your home. Coloring is such a relaxing and stress-relieving activity for kids of all ages and adults too! It's fun to experiment with different colors, shades, techniques, and patterns as you color your butterfly wings.
8. Butterfly Outline Templates
These free butterfly printables are so much fun! You can use them in a wide variety of projects or include them in your next party alongside other party supplies. The possibilities are endless and the fun is nonstop when you have free butterfly outline templates like these!
REMEMBER: Get Your COMPLETE Set of These Coloring Pages >> HERE
Fun Facts about Different Types of Butterflies
I'm sure you've seen butterflies around and maybe even learned about them in school! But do you know much about butterflies? Here are some truly amazing and interesting facts about our friends the butterflies!
Only 4% of the world's species of butterflies are found in the United States. That means that 96% of all butterfly species are found outside of the US! That is such a crazy statistic. Who would have known?!
Butterflies can pose as other species of butterflies for protection against predators. For example, the viceroy butterfly can transform to look like the monarch butterfly when it senses wild animals or predators approaching.
Butterflies are insects that have six jointed legs, 3 body parts, antennae, compound eyes, and an exoskeleton. Their body parts consist of the head, thorax, and abdomen. Their four wings and their six legs are attached to the thorax of the butterflies' body. You can identify some of these body parts in the coloring pages shown on this page. It would be a fun activity to try and circle as many body parts as you can or label the body parts by drawing arrows next to them!
Butterflies like to feed on nectar from flowers, and they are essential to the ecosystem by transferring pollen from one flower to the next.
Butterflies have the unique ability to tell time and track the position of the sun!
The butterfly life cycle goes from an egg to a caterpillar, into a chrysalis, and an adult butterfly flyer.
Monarch butterflies are widely known in North America and the species has changed from being endangered to vulnerable. If you come across a beautiful orange monarch butterfly, it's okay to touch it gently. Monarch butterflies only live for 2 to 6 weeks, except for the last generation of the year (which can be like 8-9 months). Monarch butterflies will live everywhere that you find milkweed.
Some examples of local butterfly species in the Northern California region include the blues, orange tip, dogface, checkerspot, buckeye, and skippers.
Fun Butterfly Activities
Here are some fun ways to use your butterfly coloring pages!
Make a butterfly coloring book.
Cut out your beautiful butterflies and make magnets to decorate the fridge.
Make a paper garland with your colored butterflies.
Sort your butterflies by color.
Make a DIY coaster for your tables made out of your butterflies.
Decorate plain-colored gift bags by gluing your butterflies to the bags. Even brown paper bags will work for this exercise (and the result will be spectacular).
Turn your coloring pages into bookmarks by cutting the butterflies out to the desired bookmark size and adding tassels to the end of them.
And don't forget, you can always hang your coloring pages on your wall and look at your beautifully colored butterflies!
Final Thoughts on Butterfly Outline
Hopefully, you found these free printable butterfly outline templates to be fun and exciting to color! There are so many beautiful butterflies included in this post that are completely free for you to use. Share these butterfly outlines with friends and family. Print them off and make a butterfly coloring book.
You can color many different butterflies, or you can print off the same butterfly outline and color it in many different ways. Try to experiment with different coloring styles, patterns, and more.
I know that it can be hard to find exactly what you are looking for when it comes to free printable butterflies, and I hope you found what you need on this page. If the butterfly is not the exact size you need, you can feel free to adjust the printer settings and customize the scale of the PDF file! By adjusting the size, you can get the right size butterfly you need for your next project!
REMEMBER: Get Your COMPLETE Set of These Coloring Pages >> HERE
Kids can enjoy these butterfly coloring pages in so many ways. They can collect their finished butterflies into a butterfly coloring book, or they can cut each butterfly out. Children of all ages can enjoy coloring these butterflies in vibrant colors, realistic colors, or pastel shades. Children can also take advantage of the white background space by creating their unique butterfly habitat in the background.
You can bookmark this page for future reference, pin it to Pinterest, or share it on Facebook or Instagram.
Thank you so much for reading and downloading these exceptional butterfly coloring pages! Your continued support for our coloring pages means the most.
If you enjoyed this post and all the freebies, be sure to check out these other free coloring pages:
Boyish Coloring Pages (Free Printables for Boys)
Sea Turtle Coloring Pages (Free Printable Turtles)
Free Printable Monster Truck Coloring Pages for Kids
Free Aesthetic Coloring Pages (25 Printable Sheets)
30+ Bat Coloring Pages for Kids (Free Printable)
Fall Leaves Coloring Pages (Free Printable for Kids)
60+ T Rex Coloring Page Printables (FREE for Kids)
Ice Cream Coloring Pages (Free for Kids and Adults)