This post may contain affiliate links. That means we may make a small commission on items purchased through links in this post at no extra cost to you!

Are you looking for free ice cream coloring pages that would be perfect for your child, your class, your friends, or yourself?
Look no further!
Here are the 25 absolute cutest ice cream coloring sheets you will find on the internet today (and they are all free to download)!
All you need to do is click on the image of the ice cream coloring page you want, and the PDF file will pop up in a new tab! From there, you can download it, save it to your computer or mobile device, and print it on white computer paper size 8.5" by 11."
There are so many fun ways to use these ice cream parlor coloring sheets and so many fun ways to color them. Enjoy all the freebies as you scroll down!
REMEMBER: Get Your COMPLETE Set of These Coloring Pages >> HERE
Don't forget! Pin this post to Pinterest to read again later!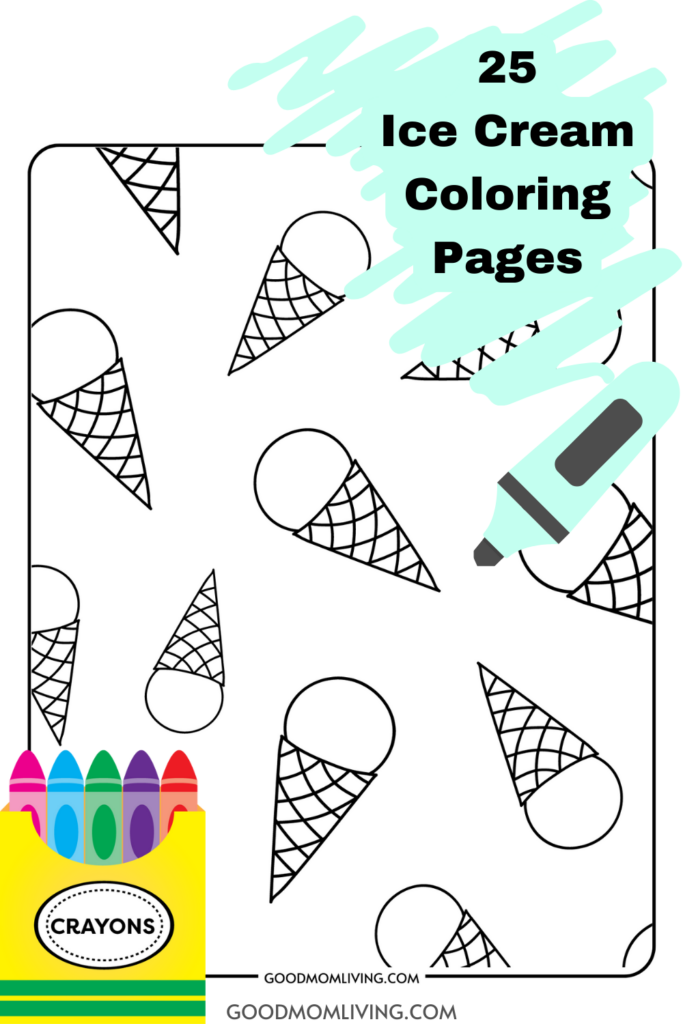 Color your Ice Cream in Vibrant Colors
1. Free Coloring Pages of Ice Cream Cones
Color your ice cream cones with your favorite flavors! These free printables include printable pages of an ice cream parlor, waffle cones, scoops of ice cream, and an ice cream float! Kids of all ages can use different colored crayons or colored pencils to have fun coloring!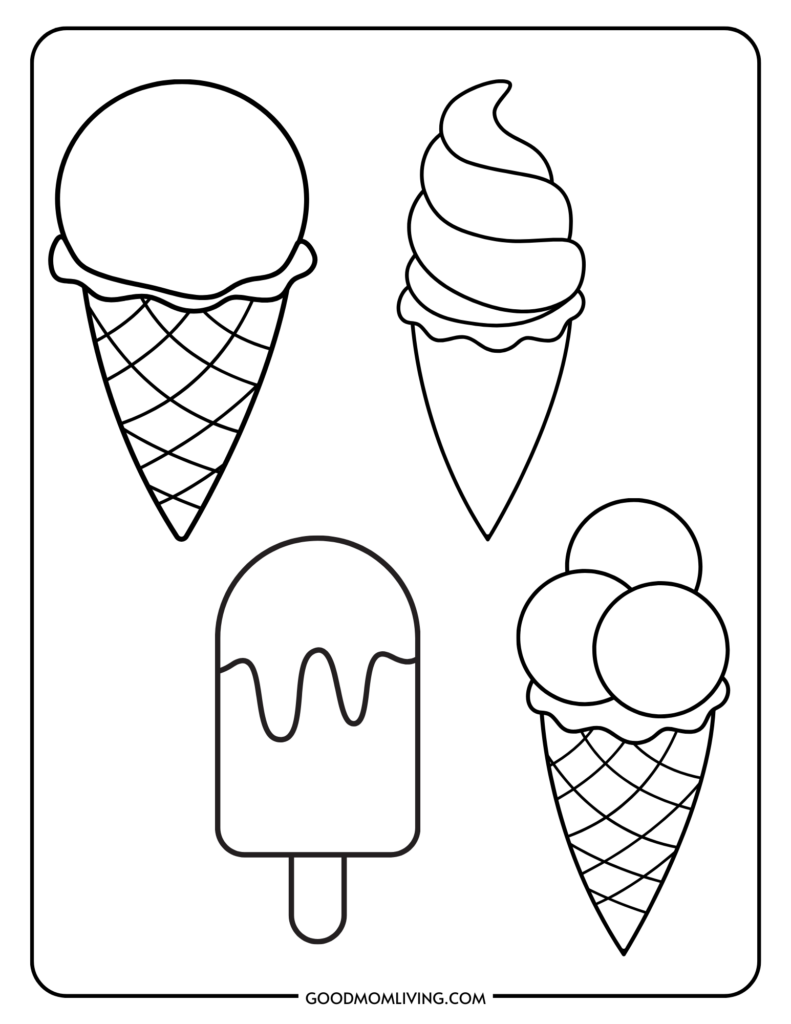 2. Ice Cream Parlor for Kids of All Ages
Grab your free printable ice cream coloring pages and enjoy them in your unique way! There are ice cream pictures of an ice cream sundae, ice cream bars, a banana split, and more! Coloring ice cream pictures is such a fun way to enjoy this fun treat, especially on a hot day!
3. Scoops of Ice Cream Printable Pages
Color these cute pages in vibrant colors! Download your strawberry, vanilla, and chocolate ice cream coloring sheets today! These tasty treats are sure to bring a smile to your face as you color them your favorite colors.
REMEMBER: Get Your COMPLETE Set of These Coloring Pages >> HERE
4. Free Printable Ice Cream Coloring Pages
Enjoy all these coloring printables for personal use only (non-commercial use). Older kids and younger kids love coloring (and eating) soft-serve ice cream from their neighborhood ice cream truck on a hot summer day! Have some cool coloring fun with these free printables a different color.
5. Ice Cream Pictures
Be sure to download your favorite ice cream pages today! Color your ice cream scoops in bright colors! Younger children can develop their fine motor skills by coloring a simple ice cream coloring page with colored pens or pencils. Nothing beats an ice lolly on a hot summer day! Print and color your favorite summer ice cream coloring sheets and make an ice cream coloring book.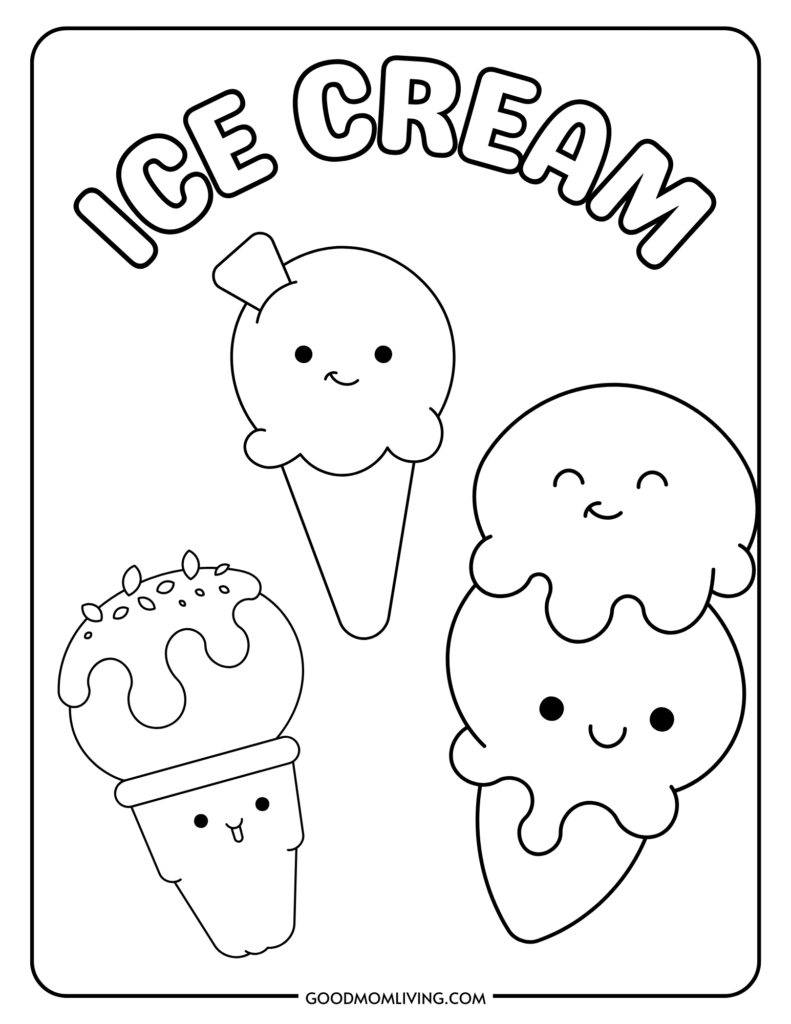 6. Cute Ice Cream Coloring Pages
Color your favorite ice cream coloring sheet in your favorite colors. Download the digital file and print it at home. You can color ice cream trucks with various flavors and more! Coloring is the perfect way to unwind after a busy day or enjoy a lazy weekend afternoon.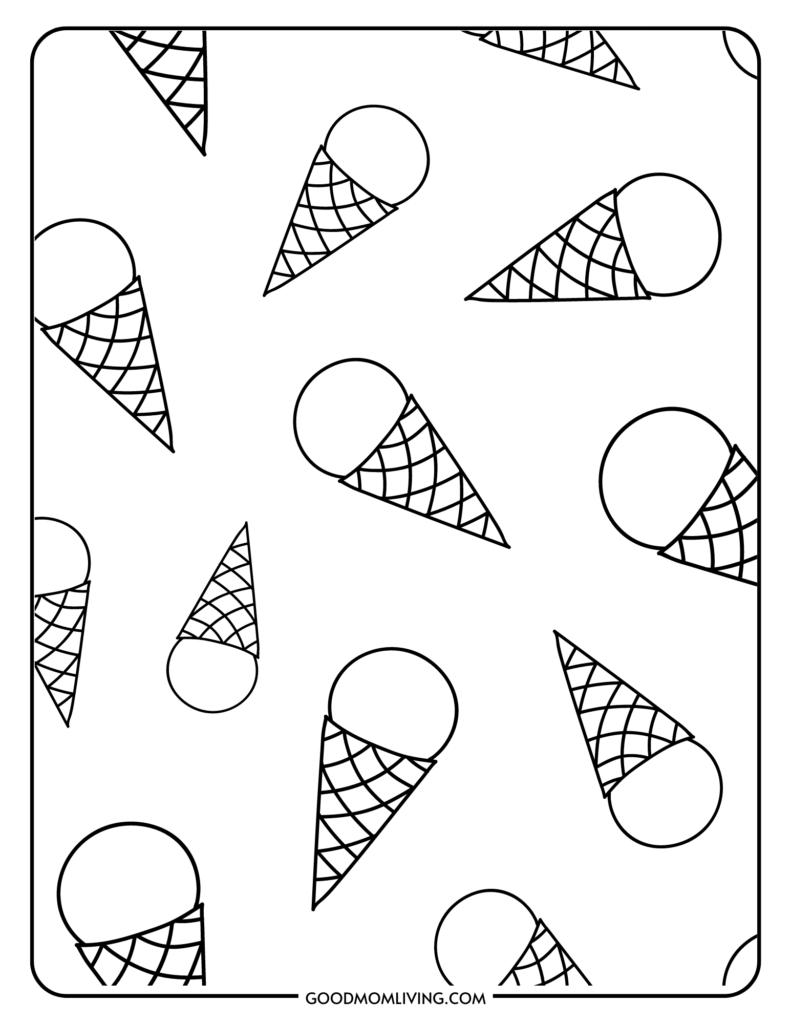 7. Favorite Flavors of Ice Cream Coloring Sheets
Let your imagination run wild as you color these cool treats! What is your favorite kind of ice cream? I have a big sweet tooth and I enjoy many different flavors. It's hard to pick just one!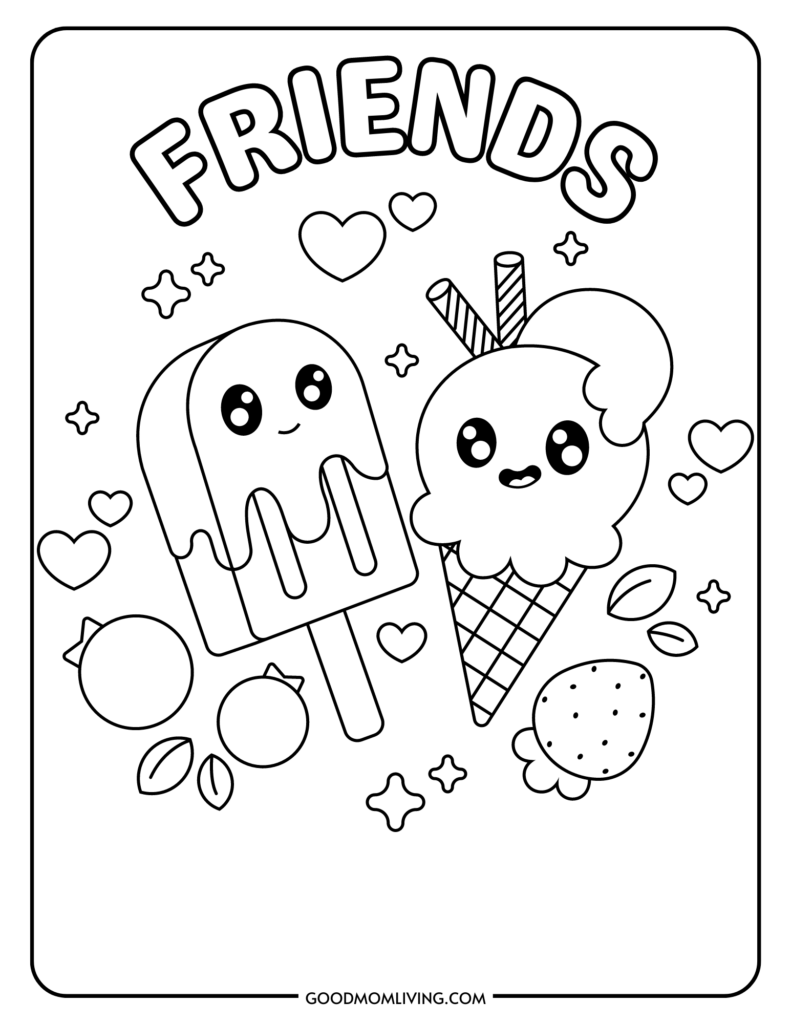 8. Tasty Treats on a Hot Day
People of all ages can enjoy coloring these free coloring pages in a variety of colors. Be sure to save these fun coloring pages to come back to later! This collection of free coloring sheets is the best. If you've been looking for popsicle sticks or ice cream with chocolate syrup, look no further!
REMEMBER: Get Your COMPLETE Set of These Coloring Pages >> HERE
Final Thoughts on Ice Cream Coloring Pages
I hope you have found all the free ice cream coloring pages you were looking for right here on this page!
It can be hard to find free ice cream printables. Thankfully, we've designed the cutest ones so you don't have to look anymore!
Ice cream is a favorite treat for so many people. You can have ice cream year-round or save it for a hot day. People of all ages love ice cream, and coloring pictures of ice cream is a fun way to enjoy it even more.
REMEMBER: Get Your COMPLETE Set of These Coloring Pages >> HERE
Print out a few of these coloring pages and make your own free coloring book! Thanks so much for reading and have a great day!
If you enjoyed this post and all the freebies, be sure to check out these other free coloring pages:
Printable Butterfly Outline Templates (Free Images)
Boyish Coloring Pages (Free Printables for Boys)
Sea Turtle Coloring Pages (Free Printable Turtles)
Free Printable Monster Truck Coloring Pages for Kids
Free Aesthetic Coloring Pages (25 Printable Sheets)
30+ Bat Coloring Pages for Kids (Free Printable)
Fall Leaves Coloring Pages (Free Printable for Kids)
60+ T Rex Coloring Page Printables (FREE for Kids)