This post may contain affiliate links. That means we may make a small commission on items purchased through links in this post at no extra cost to you!
Have you been searching for boyish coloring pages (that are actually cute)?
Good news! They're right here!
If you scroll down, you'll come across 25 boyish coloring pages that are free printable coloring pages for boys! These free coloring pages for boys are enough fun for kids of all ages.
It can be hard to find cool coloring pages for boys that are toddlers, younger kids, or older kids. The printable coloring pages you'll find below have many different boyish themes that your son and his friends will surely enjoy.
Remember that these boyish coloring sheets are intended for non-commercial use and personal use only. Feel free to download the coloring pages and print them on regular printer paper as many times as you would like to for yourself, your child, your friends, and your family!
REMEMBER: Get Your COMPLETE Set of These Coloring Pages >> HERE
Don't forget! Pin this post to Pinterest to read again later!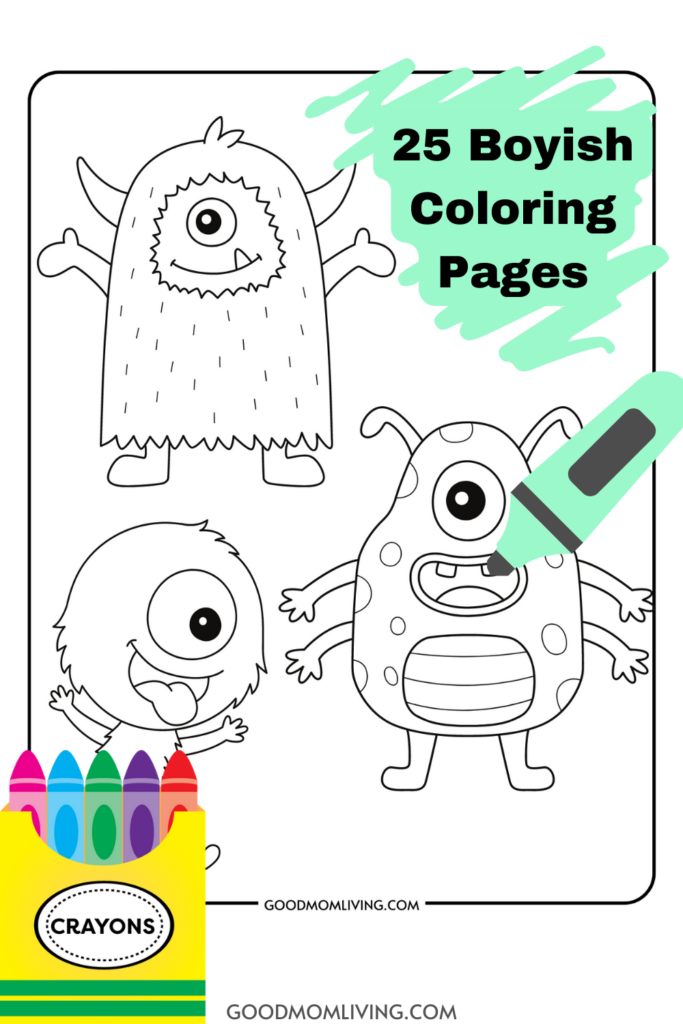 Grab a Box of Crayons and More!
1. Little Boys Coloring Sheet
Here are the perfect free coloring sheet printables for little boys. The coloring sheets are great for kids of all ages (including little girls). Coloring is such a great way to enjoy your free time and relax.
2. Free Coloring Pages for Boys of All Ages
Watch as your little dude improves his fine motor skills by coloring these free coloring pages! These boy color pages are such a great exercise for their growing minds as opposed to spending free time playing video games. Boys of all ages will enjoy these cute designs (I know my 4-year-old and 3-year-old do)!
3. Boyish Coloring Pages for Kids of All Ages
Your young artist can grab a box of crayons and enjoy coloring these animal coloring pages in bright colors. There are so many miscellaneous coloring pages that are perfect for boys right on this page. Boys can use their favorite colors to create their masterpieces.
REMEMBER: Get Your COMPLETE Set of These Coloring Pages >> HERE
4. Free Printable Coloring Pages
Enjoy these free printable coloring pages for boys and have fun coloring once again! It can be challenging to find FREE coloring pages that are tailored towards boys. Finally, this collection of boys' coloring pages is full of lots of coloring pages they will enjoy!
5. Lots of Coloring Pages for Boys
Embrace your inner child as you explore the world of boyish coloring pages. You just can't go wrong with creating your coloring book for your young boy. Print off your favorite coloring pages and create a boyish coloring book that your child will love. All you need is to download and print your chosen PDF file on 8.5" by 11" white computer paper. Staple your pages together and start coloring!
6. Boys Coloring Pages
Be sure to check out these new coloring pages for boys. Coloring is one of the most essential educational tools for children to improve their artistic abilities, fine motor skills, cognitive skills, and attention span. Having the right coloring pages for boys to color is vital to their ability to focus and enjoy their activity. Luckily, the coloring pages you'll see here are super cute, FREE, and fun for boys of all ages!
7. World of Boyish Coloring Pages
Coloring is a fun way for young minds to grow and develop. Watch as your little superheroes have a blast coloring these educational coloring pages with different colors.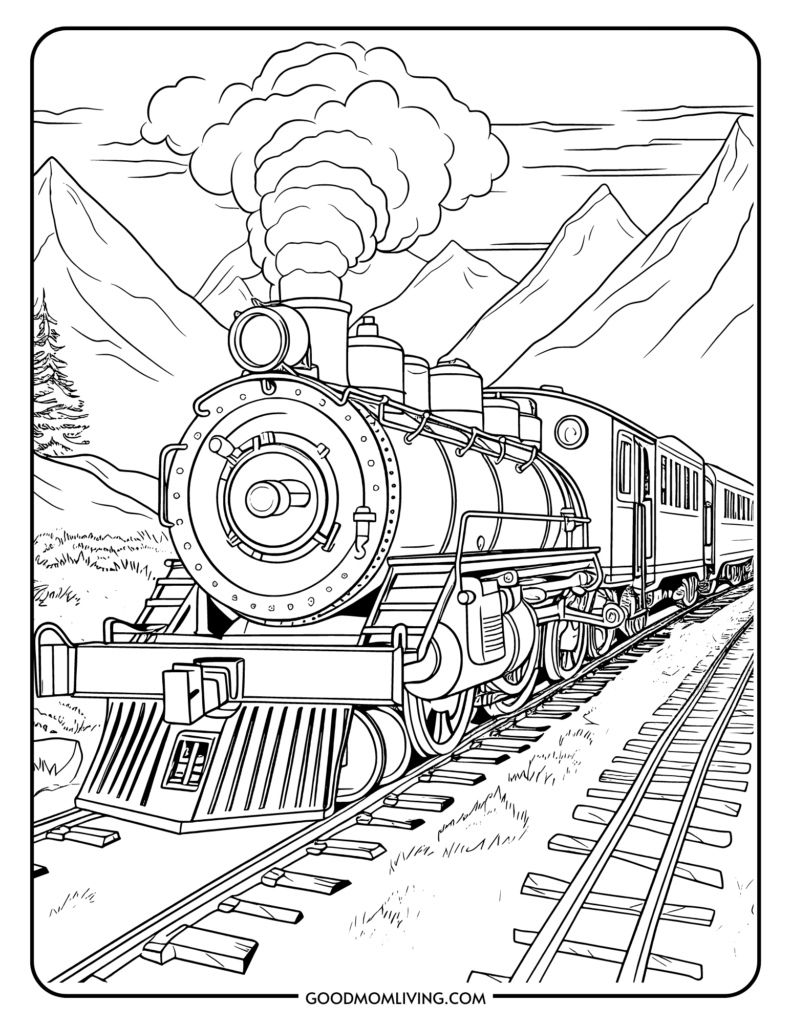 8. New Coloring Pages for Boys
Start a new coloring adventure today! Print off your favorite boy coloring pages and enjoy a sense of accomplishment with each finished page. There are endless possibilities for how you can color these pages. Try to experiment with different media, such as crayons, colored pencils, markers, paint, and more!
REMEMBER: Get Your COMPLETE Set of These Coloring Pages >> HERE
Final Thoughts on Boyish Coloring Pages
I hope that you found the perfect coloring pages here to start your coloring journey today!
Coloring pages for boys have many different themes! On this page, here are some of the different types of boyish coloring pages you'll find:
Space coloring pages
Bike coloring pages
Outdoor activities coloring pages
Sports coloring pages
Dinosaur coloring pages
Coloring pages of boys
Vehicle coloring pages
These are the perfect themes for boys to color. As a mom of two boys (and one more boy on the way), I am pretty familiar with the types of coloring sheets my boys like. I guarantee your son and his friends will enjoy the 25 FREE coloring pages I have hand-picked and designed on this page!
Coloring pages are a great way for kids and adults to relax after a long day at work or school! Coloring can be done alone, with your family, or with your friends. The most important thing about coloring is that you are having fun doing it! Don't forget that you can color using many different craft supplies and not simply just crayons or markers.
If you enjoyed these FREE boyish coloring pages, be sure to check out these other free coloring sheet printables today:
Printable Butterfly Outline Templates (Free Images)
Sea Turtle Coloring Pages (Free Printable Turtles)
Free Printable Monster Truck Coloring Pages for Kids
Free Aesthetic Coloring Pages (25 Printable Sheets)
30+ Bat Coloring Pages for Kids (Free Printable)
Fall Leaves Coloring Pages (Free Printable for Kids)
60+ T Rex Coloring Page Printables (FREE for Kids)
Ice Cream Coloring Pages (Free for Kids and Adults)
Bunny Coloring Pages (Rabbit Coloring Pages for Kids)
Be sure to pin this post to Pinterest to return to later! Bookmark this page and share it with friends and family on Facebook, Twitter, or Instagram!
Thanks for reading!