This post may contain affiliate links. That means we may make a small commission on items purchased through links in this post at no extra cost to you!
You need to check out these 30+ free printable bat coloring pages! Here is the best selection of cute bat coloring pages that you can print and color right at home.
The free printable coloring pages of bats are available in 8.5" by 11" PDF format. You can download and save each of these coloring sheets to your device to use later or print them right now.
Remember that these bat coloring sheets are intended for non-commercial use and personal use only. Feel free to download the coloring pages and print them on regular printer paper as many times as you would like to for yourself, your child, your friends, and your family!
Your coloring pages can be printed and turned into a Halloween coloring book to use in the fall!
You've come to the right place if you are looking for:
Bat coloring pages PDF
Realistic bat coloring pages
Cute bat coloring pages
Scary bat coloring pages
Or bat coloring drawing pages
Be sure to keep scrolling and choose your favorite pictures of bats to color! Enjoy over 30 different bat coloring page designs!
REMEMBER: Get Your COMPLETE Set of These Coloring Pages >> HERE
Don't forget! Pin this post to Pinterest to read again later!
Coloring Craft Supplies
1. Free Printable Bat Coloring Pages
Free printable bats to color are available for free download! Pick your favorite bats to color with crayons, markers, colored pencils, and more! Have fun coloring different types of bats, such as the vampire bat, fruit bat, and Halloween bat.
2. Vampire Bat Coloring Pages in the Night Sky
Feel free to download these vampire bats to use as Halloween decorations around the house. Kids of all ages as well as adults can enjoy these printable pictures of the creatures of the night!
3. Free Printable Coloring Pages of Fruit Bat
Don't miss out on free printables available for instant download. Simply pick your favorite bats and print them at home! Save for future use by bookmarking this page, saving this post to Pinterest, or sharing on Facebook or Twitter!
REMEMBER: Get Your COMPLETE Set of These Coloring Pages >> HERE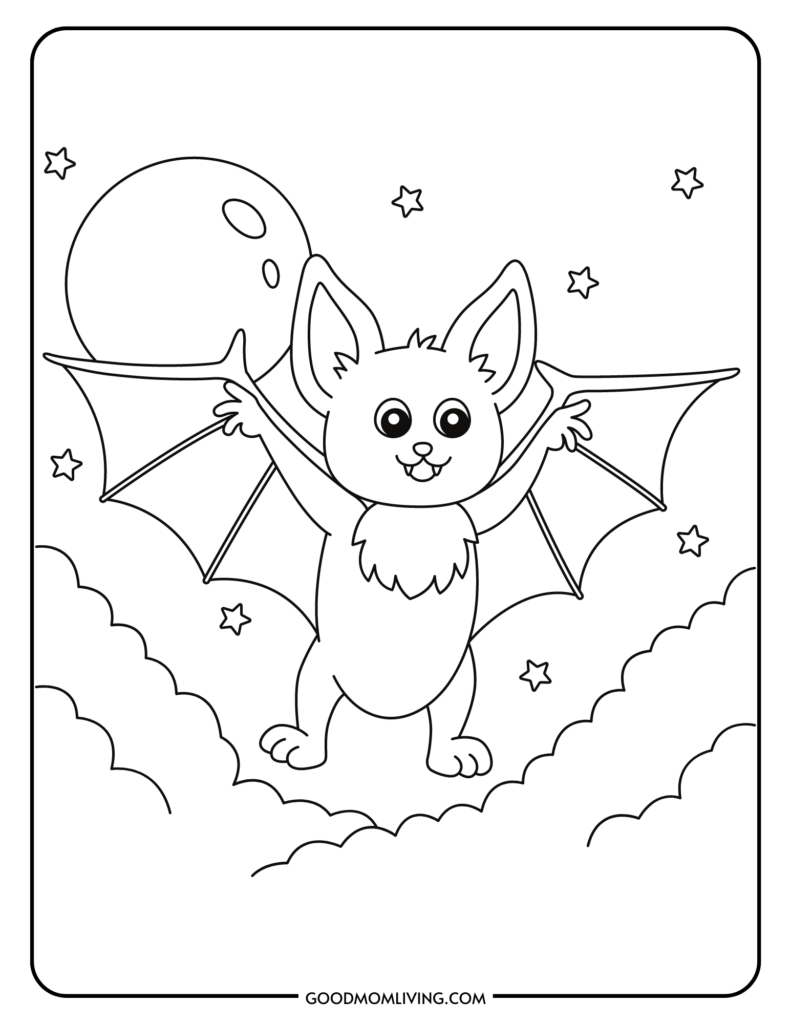 4. Bat Coloring Sheets for Kids of All Ages
These bat coloring sheets are for kids of all ages and adults of all ages! These bat coloring sheets are especially fun around Halloween and during the fall season.
5. Pictures of Bats
Enjoy coloring scary bats during the spooky season! It's so much fun to color these pictures of bats during September and October. These Halloween coloring pages are great for older kids and younger kids. Have fun experimenting with your coloring techniques and don't be afraid to color your bats in vibrant colors (and not just black)!
6. Cute Bat Coloring Pages
It can be hard to find cute bat coloring pages (that are also 100% free). Luckily, these large bat coloring pages are truly the best you will find today. These free printable coloring pages of bats on tree branches are perfect for Halloween or any time of the year. Each PDF file is available for instant download by simply clicking on the image of the coloring page that you desire. It's so easy to start coloring your bats!
7. Make a Halloween Coloring Book
Have you ever dreamed of making your own Halloween Coloring Book? It's so easy to make your Halloween coloring book by simply picking out a few of your favorite bat coloring sheets on this page and printing them off! You can staple the pages together, or use a hole punch to make a hole in each page and tie them together with string.
8. Printable Pictures of Different Types of Bats
There are so many different types of bats to color! Some bats have large wingspans, sharp teeth, or unique features. There are scary bats and there are also friendly bats. For best results, you can color your bats in your favorite colors and use different hues. The options are endless with these free printables of different species of bats.
REMEMBER: Get Your COMPLETE Set of These Coloring Pages >> HERE
Interesting Facts about Bats
How much do you know about bats? You probably don't know a whole lot about bats, so here are a few of the most interesting facts about bats!
There are over 1,400 species of bats in the world, which is a lot more bats than I thought there was! This means that they are the second most common group of mammals (the first most common group is rodents).
Batts are nocturnal. This means that these creatures of the night thrive and live during the night! They are most active after sundown.
Fruit bats play an important role in seed dispersal.
Some bat species can live up to 30 years.
You shouldn't touch bats because they are known to carry diseases that can transfer to humans, such as rabies. Stay away from bats and get the right medical care if you do happen to come in contact with them.
Bats are very smart, very social, and often fly together in groups.
Bats that are found in North America eat flying insects. Vampire bats are the only species of microbats that feed on blood (from cattle and horses) rather than insects.
Bats can eat as many as 1,200 mosquitos an hour.
Final Thoughts on Bat Coloring Pages
Bats are such interesting creatures. Kids love to color these free printable bats. It's so much fun to color these Halloween coloring pages any time of the year, especially as Halloween gets close. Coloring is such a fun activity on a rainy day instead of watching a TV show.
The bat coloring page sheets above are all free to download individually and can be reused anytime you want to print them off. There are pictures of all different kinds of bats, such as scary bats, friendly bats, and bats with large wingspans.
If you save this post on Pinterest or share it on Facebook, you can refer to it in the future when you need it! Let friends and family know how awesome these coloring sheets are by printing them off a copy of your favorite bat!
Don't forget to comment below if you found this post helpful!  Be sure to let me know what your favorite bat fact was, or your favorite bat coloring page!
Be sure to check out these other free coloring pages too:
Printable Butterfly Outline Templates (Free Images)
Boyish Coloring Pages (Free Printables for Boys)
Sea Turtle Coloring Pages (Free Printable Turtles)
Free Printable Monster Truck Coloring Pages for Kids
Free Aesthetic Coloring Pages (25 Printable Sheets)
Fall Leaves Coloring Pages (Free Printable for Kids)
60+ T Rex Coloring Page Printables (FREE for Kids)
Ice Cream Coloring Pages (Free for Kids and Adults)
Bunny Coloring Pages (Rabbit Coloring Pages for Kids)
Thanks for stopping by and I hope you enjoyed it!