This post may contain affiliate links. That means we may make a small commission on items purchased through links in this post at no extra cost to you!
I have a four and half-year-old son. I also have a two-and-a-half-year-old son. So let's just say, I have expertise in the topic of toys for preschool-age boys. I know the best gifts and toys for 4 year old boys!
My four-year-old is obsessed with anything that has Spidey and His Amazing Friends or Paw Patrol on it!
Finding educational toys that keep a 4-year-old boy's interest can be a challenge, and I know firsthand how hard it is to keep their attention at this age.  Most young boys can lose interest in activities that are not stimulating enough for them.
Best Gifts for Your Little Boy
Finding the Perfect Gift
I've decided to use my knowledge of what little boys like to construct this list of the best gifts and toys for 4-year-old boys.  Be sure to check out the entire list and pay attention to what the boy you have in mind might be most interested in.  There are a wide variety of toys I recommend that will suit lots of different boys' personalities and learning styles!
If you haven't seen it already, check out my post on Toddler Headphones that would be great for a 4-year-old boy as well!
Don't forget! Pin this post to Pinterest to read again later!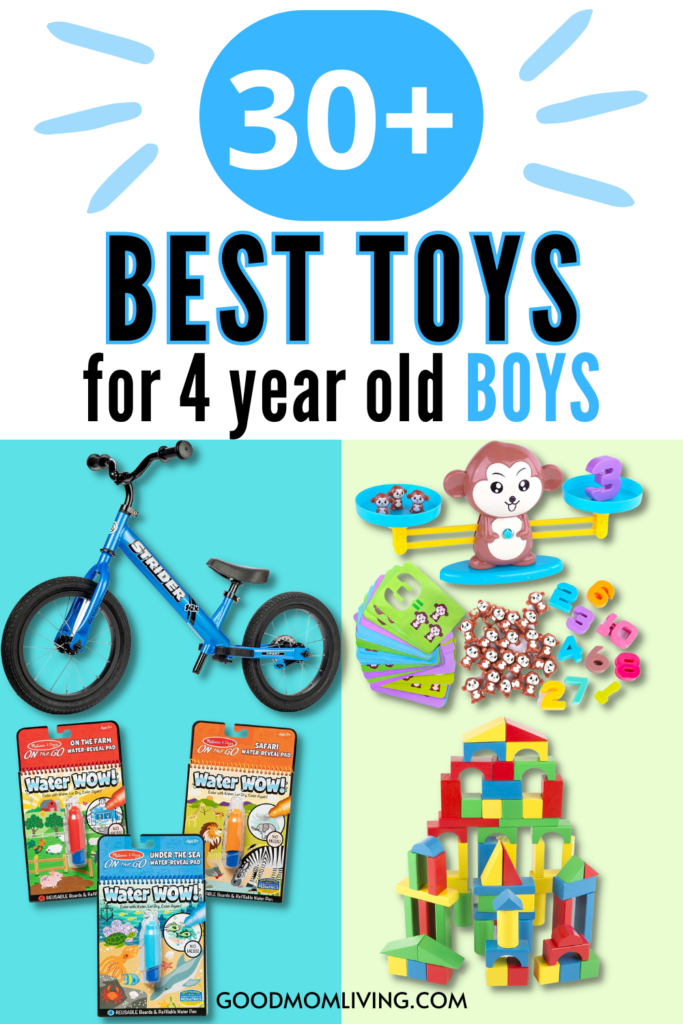 Best Toys for 4 Year Old Boys
Melissa & Doug Toys for 4 Year Old Boys
This 3-pack set of Water Wow! Activity pads include farm, safari, and under-the-sea-themed pages.  This is one of the more popular toys for this age group, and the themes match the interests of a 4-year-old boy.  The water-painting activities provide hours of fun and can be taken on the go during travel or car rides. The best part about these pages is they are reusable, and the water pens that come with each pad are also refillable. We have these Water Wow! Pads and I can't imagine going on road trips without them. My boys ask me for them every time we go on a trip!
This PAW Patrol Adventure Pack is great for pretend play outside or inside.  Four-year-old boys love wearing backpacks and putting all their gear inside.  This set comes with a working whistle, binoculars, a fold-out mission map, a write-on badge, and pretend pup treats.  This is the perfect gift for preschoolers ages 3 to 5 and would make the best birthday gift or Christmas gift for a little boy. Paw Patrol is a really popular cartoon for 4-year-old boys, and this gift will brighten any young boy's day.  My son is obsessed with his backpack and loves anything that he can hold his things inside.
This Melissa & Doug Magnetic Daily Calendar is a fun way for preschoolers to learn their months, seasons, days of the week, weather, holidays, and more! It comes with 80 magnets. This magnetic daily calendar is such a great at-home version of preschool circle time.  If you practice this calendar daily, your 4-year-old son will start learning new vocabulary and develop their confidence. It will teach a young child about the days, months, and years, as well as special events and even emotions.  The best part about this daily calendar is it also comes with a blank dry-erase board to use as storage for the magnets.
Construction Toys
This dump truck is a sturdy 17" truck with huge tires to roll over anything in its way.  It's the ultimate classic dump truck that is perfect for a four-year-old boy. The truck is 17 inches long and has a movable truck bed.  It is so fun for four-year-old boys to load and unload their dump trucks.  Best of all, it can be used indoors or outdoors.  Every four-year-old boy needs a mighty dump truck like this one!
Outdoor Toys for 4 Year Old Boys
We have this balance bike for our four-year-old son and he loves it! It is perfect for developing hand-eye coordination, improving balance, and building confidence in your child.  This balance bike comes with custom grips, a padded seat, a footrest, and all-purpose tires.  The assembly is easy; I did it myself.  It is one of the lightest bikes out there that are comparable to this one.  The cool thing about this balance bike is that it starts to prepare four-year-olds for transitioning to a bike with pedals, and when that time comes, the Strider 14x comes with an Easy-Ride Pedal Conversion Kit (sold separately).
This indoor or outdoor Little Tikes playhouse is so fun for four-year-old boys to explore.  It will develop your child's fine motor and cognitive skills, as well as their social and emotional skills.  This is also perfect for screen-free play and can be used year-round. This Cape Cottage playhouse is great for indoor and outdoor use and can be decorated for various seasons of the year to make it fun.  It's durable, safe, and has an easy assembly.  Playhouses are one the best toys for 4-year-old boys because they spark creativity and imagination.  As your child plays, they will work on developing their language and problem-solving skills.
Perfect Gift for Fine Motor Skills
Train Set
This 39-piece train set fits with Thomas, Brio, Chuggington, and Melissa & Doug train set pieces.  It's a fun train set that contains unique train tracks, a bridge, people, a passenger car, and more.  Fine motor skills are so important for 4-year-old boys as they start getting ready to write with a pencil, button and unbutton their shirts, and tie their shoes.  By playing with this train set, you'll be building on your child's fine motor skills naturally as their set up their train tracks, assemble their trains, and play with the small figurines in the set.
Drawing Board
This dinosaur-themed LCD drawing board also comes in blue and pink.  It's perfect for developing hand-eye coordination and fine motor skills on the go.  I love how the drawing board is brighter than other doodle boards I've seen. This is the perfect screen-free activity and is a must for road trips.  There is no radiation, no glare, and no blue light.  It's one of the mess-free toys for 4-year-old boys that can be brought anywhere and used year-round.
Digital Camera
This camera is so fun for four-year-old boys! It will most likely be their first time using their camera, and they will have a blast taking pictures whenever they can.  (Hopefully, this means our four-year-olds will stop trying to take photos on our smartphones since they have their own now!) Also, it has a powerful battery life that allows your child to take photos continuously for 1-2 hours. Photos are stored on the camera's 32 GB micro SD card! This would make a perfect and unique birthday gift or Christmas gift.
Wooden Blocks
This Melissa & Doug wooden blocks set comes with 100 Blocks in 4 colors and 9 shapes. A four-year-old boy could spend hours of screen-free time building towers and buildings. This is a great gift that anyone ages 2 through 8 could enjoy.  The blocks themselves are lightweight, have rounded edges, and have a smooth paint finish.  They are the perfect size for little hands, ranging from 1 inch long to 2.25 inches long. 
Lincoln Logs
This is seriously the cutest Lincoln Logs set I've seen so far. It's a cowboy-themed version with cowboy and horse figurines.  All the pieces come in a reusable metal tin for easy storage (a big plus).  I think any 4-year-old boy would love this.  It's available only on Amazon.
Best Gifts for Pretend Play
Grocery Store
This is the perfect kids pretend shopping set for kids ages 3 and up.  It comes with 70 pieces of grocery store accessories, including 5 grocery boxes, 3 grocery cans, lip balm, a granola bar, signs, and more.  This is sure to create hours of fun role-play and imagination.
Play Kitchens
This is one of the best play kitchens for the price I've seen so far.  It is frequently discounted on Amazon and comes with lights, sounds, a play phone, curtains, and more.   Even the oven light turns on like a real oven! This will fit nicely in a corner of your home. This play kitchen comes in either brown espresso or white.
Play Sets
My son has this doctor's kit, and he loves it! We keep all 25 pieces together in the doctor bag that comes with the set! It is such a fun doctor role-play set and is really good quality.  This doctor kit for toddlers is designed for ages 3+, but even my younger son enjoys the doctor set and he is 2 and a half.
This pretend play fruits and vegetables set is great for 4-year-old boys.  It includes a play knife where the child can pretend to cut the fruits and vegetables in half.  This is a cutting Montessori toy that develops color recognition, sorting, and group skills.
Imaginative Play Toys for 4 Year Old Boys
Plush Toys
This is a dinosaur stuffed animal that is attached to a backpack that your four-year-old can wear.  The backpack is usable and can store all his things. In addition, the dino can detach from the backpack.  This dino backpack can be brought on trips and your little one can stuff his backpack with all his prized possessions.  It would be a great carry-on backpack for short plane rides, and the attachable dino can give a 4-year-old child comfort and emotional support during a flight! This is a must-have toy for 4-year-old boys.
Dino World
This is the ultimate dinosaur carrier truck that is approximately the size of a toaster. It contains 8 dino figurines, an activity play mat, dino eggs, and tree figurines.  This super cool dinosaur truck has a cage for all the dinos to go in, and the truck is approximately the size of a toaster.  Four-year-old boys will have so much fun laying out the activity play mat and placing all their dinos on top. 
Police Car Toys for 4 Year Old Boys
This police car and emergency vehicle set has friction-powered vehicles that make real siren sound effects and have lights. The vehicles have details that make them look realistic. This would make a great birthday gift for children aged 3 to 9 years old.
Great Toy for Problem-Solving Skills
Fisher-Price Think and Learn Toys
The Fisher-Price Think & Learn Rocktopus is a unique toy with 15 musical instruments and 5 musical styles.  The Child can customize his or her musical instrument sound effects and tempo. It's such a great way for children to explore music.
The Load & Launch Spinners are fun for ages 3 to 6-year-olds.  The 50+ experiment cards guide your child as they play! Four-year-olds will have a lot of fun loading the spinners into the launcher, pumping the power, and watching them launch off. This one will help your preschooler learn about science in a fun way!
Great Way to Develop Gross Motor Skills
Golf Balls
This is the perfect kid's golf ball set for four-year-old boys! It comes with three types of club heads: left, right, and an ambidextrous putter.  It's such a great outdoor toy gift that can be used in the backyard, at the park, and more! Start practicing with your child and they will be on their way to becoming a golfer.
Climbing Tower Toys for 4 Year Old Boys
This is a fun and active activity for both indoor and outdoor use.  The monkey bars climbing tower will provide hours of screen-free fun for multiple kids at a time.  The age range designated for this jungle gym is 3 to 8 years old, so a four-year-old would have plenty of years to play with it and improve their gross motor skills.  The dome shape is constructed out of interlocking plastic tubes and connectors with double self-locking springs.  It's a lightweight structure with easy assembly!
Outdoor Toys
The Toss and Catch Game Set comes with 4 waterproof and adjustable paddles for the ultimate family fun.  It's such a classic outdoor game that can be played at the beach or in your yard.  The storage bag that comes with the set makes everything easy to carry with you. The bright colors are fun for kids and the balls stick well to the paddles.
Race Cars for Your Little Guy
Hot Wheels Toys for 4 Year Old Boys
This is a real-life inspired carwash set that actually releases water onto the cars through its rain pipes!  Your four-year-old can control the temperature of the water, which will change the colors of any Hot Wheels Color Shifter race car. But don't worry about making a mess; the set comes with a water catch tray in the base. There is an elevator where your child can move the cars through the different levels of the playset.
Race Car Driver
This is such a fun remote control race car driver set with a police car and a race car.  There are two remote controls that can be used at the same time for fun with a friend.  This is the perfect set for your child's first remote control set.  The remote controls come with only two buttons, and the policeman and race car driver figurines can be placed into the actual cars as they move! If your four-year-old boy likes honking horns, music, and flashing lights on their race cars, then you have found the right remote control car set!
Critical Thinking STEM Toys for 4 Year Old Boys
Best Educational Toys for 4 Year Old Boys
These STEM toys are so fun for all ages and grow with your child.  The magnetic blocks set has strong magnets and stainless steel security for both the magnets and the plastic housing structure.  This is one of the best toys for 4-year-old boys out there today! Building towers and structures is such a great STEM activity that your child will be occupied with for hours. It even comes with its own storage bag so you won't lose all the pieces!
The Monkey Balance Cool Math Game is a great STEM activity that you can play with your 4-year-old son! It's a really simple concept.  There are weighted numbers 1 through 10 and weighted monkeys that need to balance the numbers! Such a great way to make learning fun for young boys. It makes practicing counting and basic math really fun! All boys like monkeys! There are even 3 math skill levels built into the game to challenge and grow with your child. The game features high-quality plastic and cute and colorful graphics and designs.  This would make a really great educational children's gift for a birthday, Christmas, or other special occasion.
Board Games with Educational Value for 4 Year Old Boys
The Skillmatics Search and Find game contains multiple write-and-wipe activity mats that can be reused repeatedly.  There are 6 activity mats to play with:
At the medical center
Inside the house
At the park
At the toy factory
At the farm
At the camp
It comes with a black pen and a bonus color pen too.  By searching and finding the objects in the picture scenes, you can build your child's vocabulary in a fun and interactive way. This game will provide your 4-year-old son with hours of practice and play.
The Ladybug Game is an award-winning educational game for boys and girls ages 3 and up.  It teaches kids math, science facts, counting, and reading.  It can be played with 2 to 4 players.  The game uses a clever combination of colors, numbers, words, and symbols to help your 4 year old catch on.  Players will try to move their ladybug across the board to the rose bush if they are able to make it past the many challenges along the way. If you are looking for educational toys for 4 year old boys, then you've found a great one in The Ladybug Game.
Creative Play for Young Children
Musical Instrument Toys for 4 Year Old Boys
This is an awesome first Ukulele for boys! Four year old boys love Spidey and His Amazing Friends as well as guitars.  This toys combines the two into a super fun and interactive musical instrument that makes learning to play music easy and fun. It's a 20-inch soprano uke, which is the perfect ukulele for beginners. It features a premium design with colorful and vivid images from the hit Disney Junior and Disney+ Show Spidey and His Amazing Friends.  The ukulele features real nylon strings and tuning gears that actually work.  The best part about this musical instrument is the attention to details that truly mimic an adult-size version.
Say hello to your four-year-old son's first drum set! This red junior drum set comes complete with a throne stool, cymbal, drumsticks, bass drum pedal, and 2 toms. The drum shells are all-wood, which means they will provide a warm and dynamic tone.  This entire set is easy to assemble and is a compact profile. It is a really unique (and stunning) drum set that provides a true drum experience. The beautiful red high-gloss finish preserves the sound quality and looks extremely vivid and bright.
My Thoughts on Toys for 4 Year Old Boys
If you are looking for the best gift for the 4-year-old boy you have in your life, you can't go wrong with any of the suggestions I laid out in this article.
As I mentioned in the beginning, I have two preschool-age sons and one of them is 4 years old at the time of writing this blog. 
I personally vetted all the toys I recommended above by making a quick assessment if my son would like the toy.  You can definitely be at ease and trust any of these choices for the little boy you are shopping for. 
I know you'll pick something really great. I am so excited for you!