This post may contain affiliate links. That means we may make a small commission on items purchased through links in this post at no extra cost to you!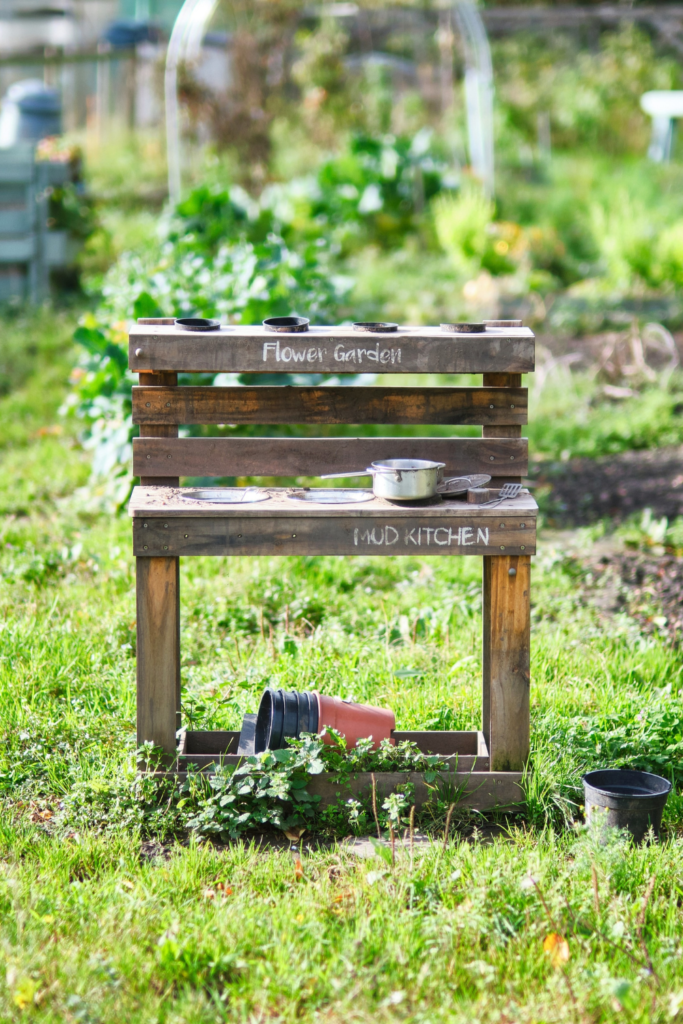 Mud Kitchens are a great way to encourage sensory play in your backyard.  Finding the perfect mud kitchen for kids to explore will allow them to have great fun outside.  Be sure to check out the recommended pre-made mud kitchens, DIY mud kitchen plans, and frequently asked questions about outdoor mud kitchens at the bottom of the post.
If you are looking for mud kitchen ideas, you've come to the right place. Let's get right into it!
Don't forget! Pin this post to Pinterest to read again later!
Pre-Made Mud Kitchens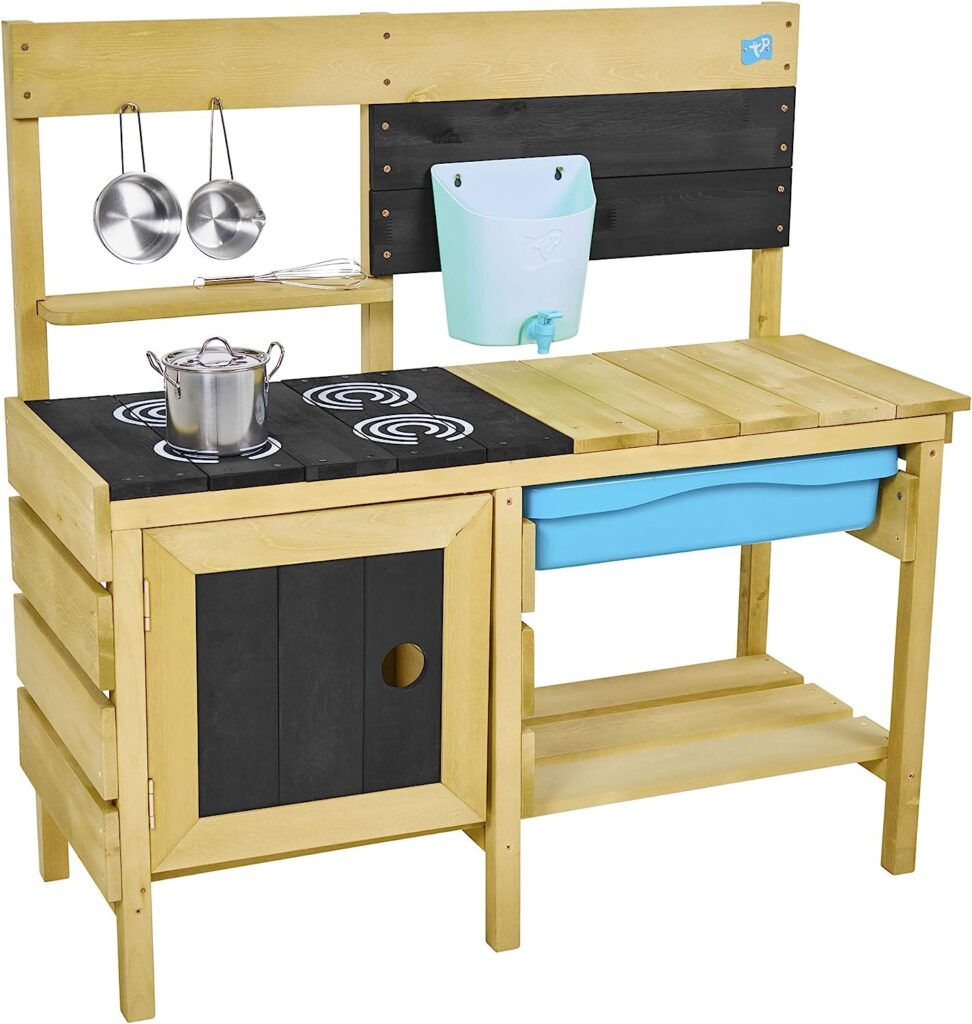 Here is a fun deluxe wooden mud kitchen that is great for fun backyard pretend play ideas for toddlers.   It's an outdoor kitchen playset with a sand and water pan, a play sink, and kitchen accessories.  This would be great for young children as well as older children!
Here is a great wooden outdoor mud kitchen that is upright and includes a faucet, kitchen accessories, and a garden sink.  I love the color of the natural wood in this outdoor kitchen.  This would be a perfect kitchen for pretend play for toddlers.
This Costzon kid's outdoor mud kitchen includes a removable sink, kitchenware, and a stove.  This set is ideal for ages 3+ and it also includes all the kitchenware you need in your backyard mud kitchen.  An interesting feature about this one is the sink is removable.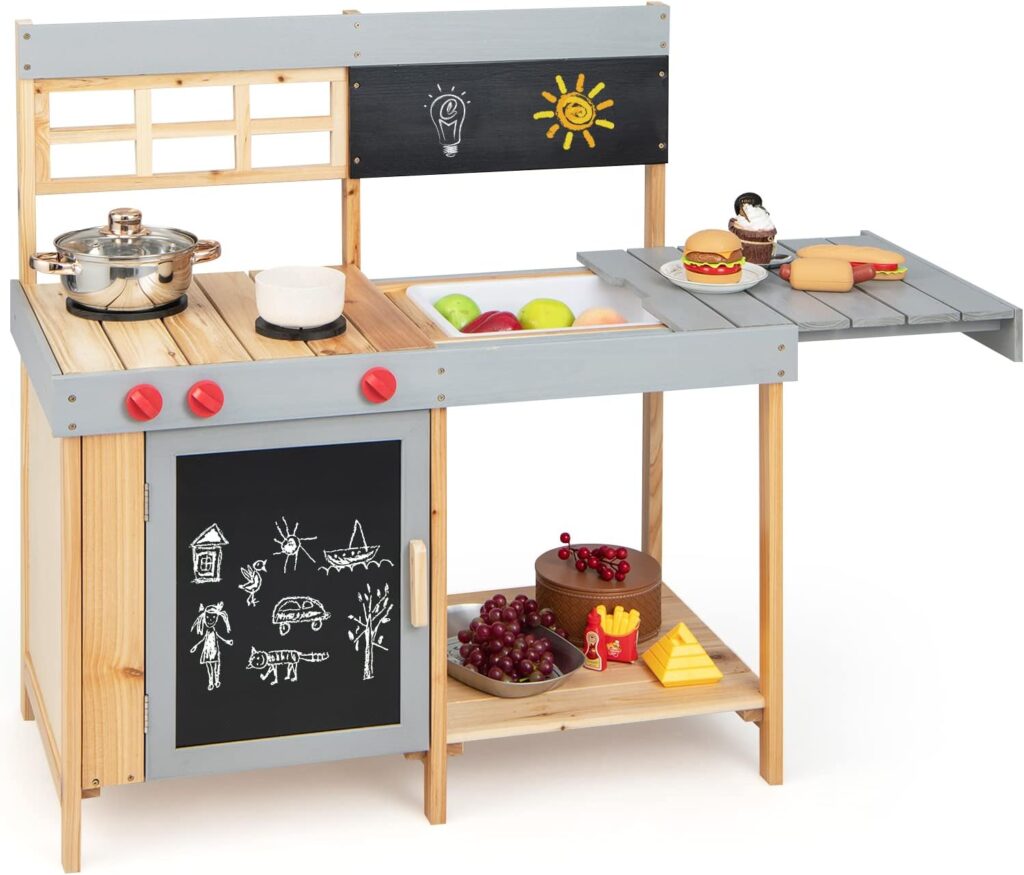 Here is another Costzon mud kitchen that is a slightly different style.  This one includes a large countertop and a big blackboard for kids to practice coloring on!  The playset has a removable cover to give kids lots of options for their imaginative play experience.
Here is a Costzon mud kitchen that comes with an umbrella.  This would be perfect for hot days outside in the backyard where kids can gather under the shade and still have a great time.  This outdoor mud kitchen includes a cooking cart with wheels, pretend kitchen play accessories and a sink.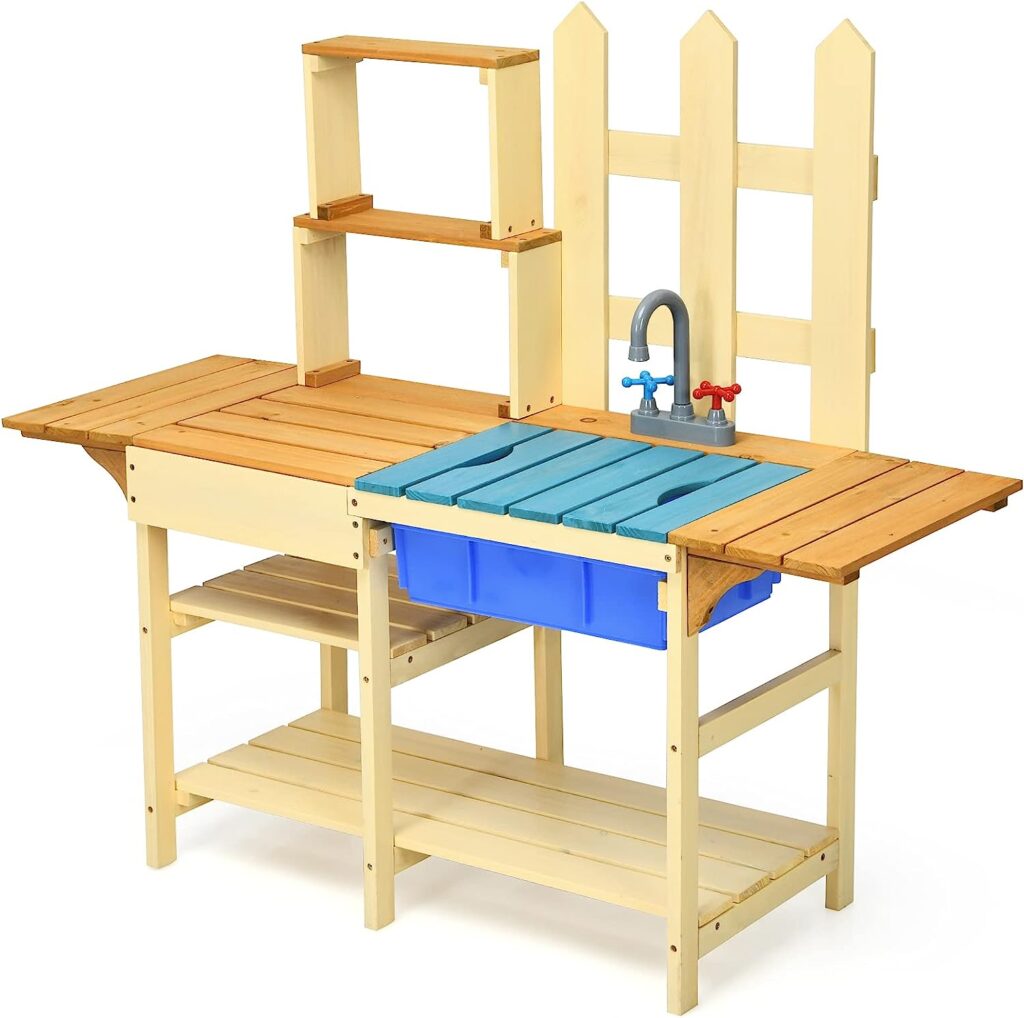 Here is yet another Costzon wooden mud kitchen that is great for a backyard mud kitchen!  This one includes a simulated faucet, removable board, and lots of counter space for kids to explore.  This set is sure to encourage hours of independent play as toddlers explore and have fun.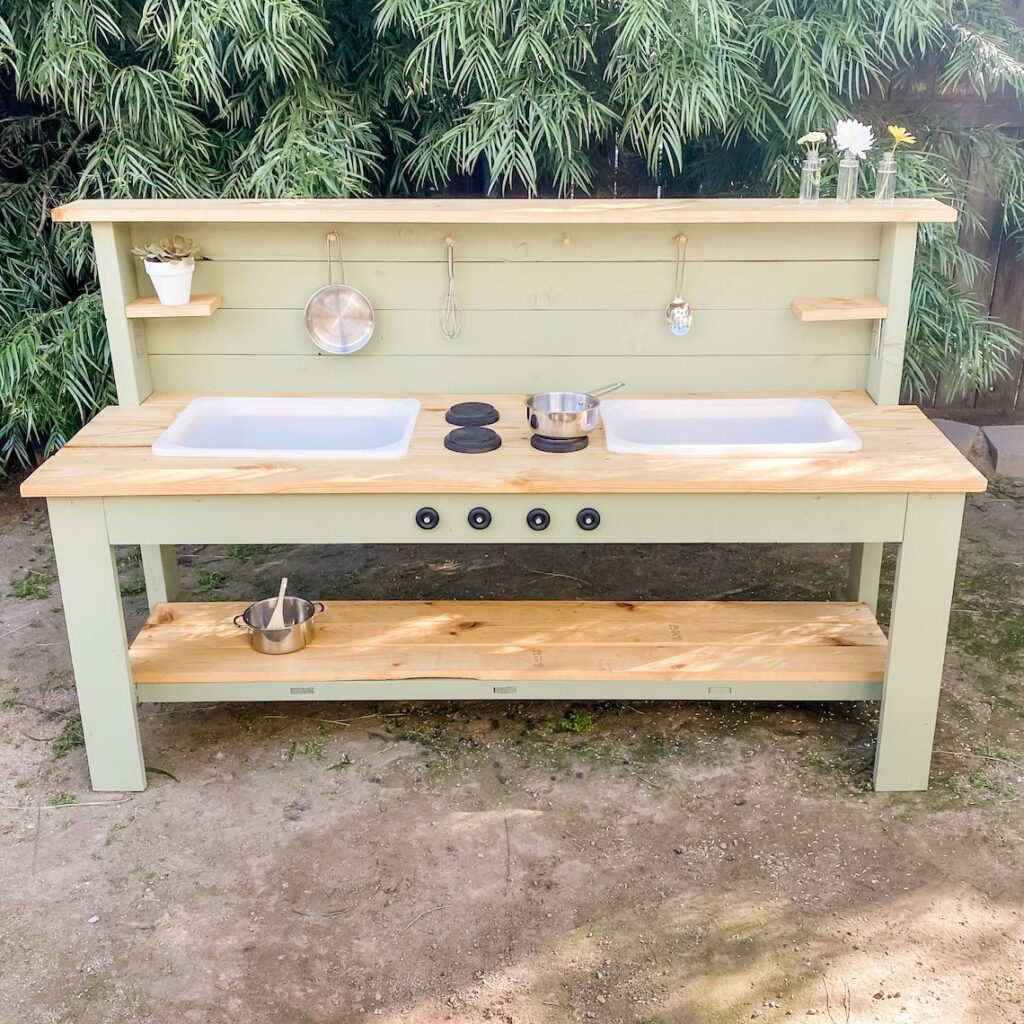 This mud kitchen is a beautiful choice for an outdoor mud kitchen.  It's a handmade Montessori wood mud kitchen that can be purchased on Etsy.   This is a great choice for someone looking for a homemade version who does not want to construct it themselves.   It's excellent quality and the perfect height for a 3-year-old.  This is a durable set that will last a long time.  Plus, it ships out fairly quickly so you won't have to make your kids wait too long to start having fun with it!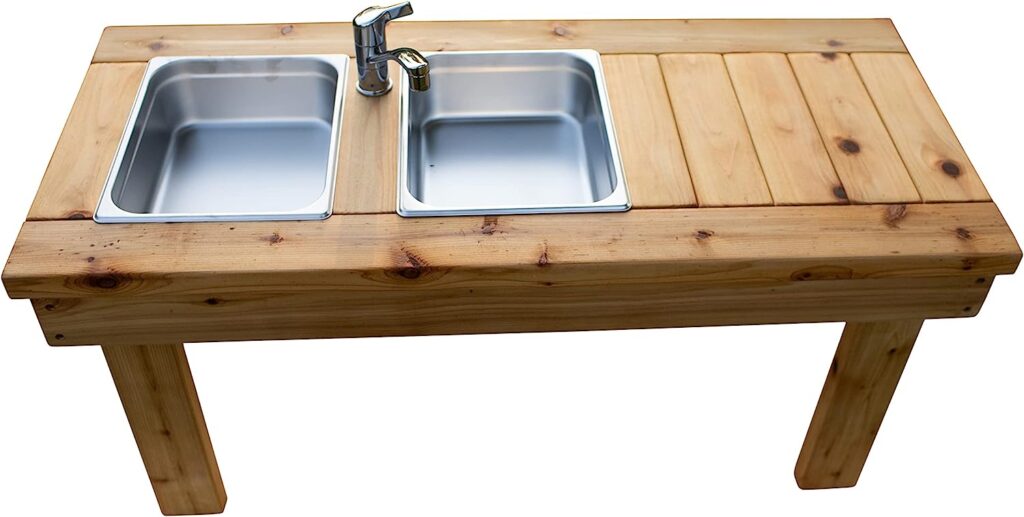 I love the simplicity of this mud kitchen.  The wood is beautiful and the features are of great quality.  The best thing about the sinks are they are made of high-quality stainless steel and there is a lot of extra counter space for tons of fun activities.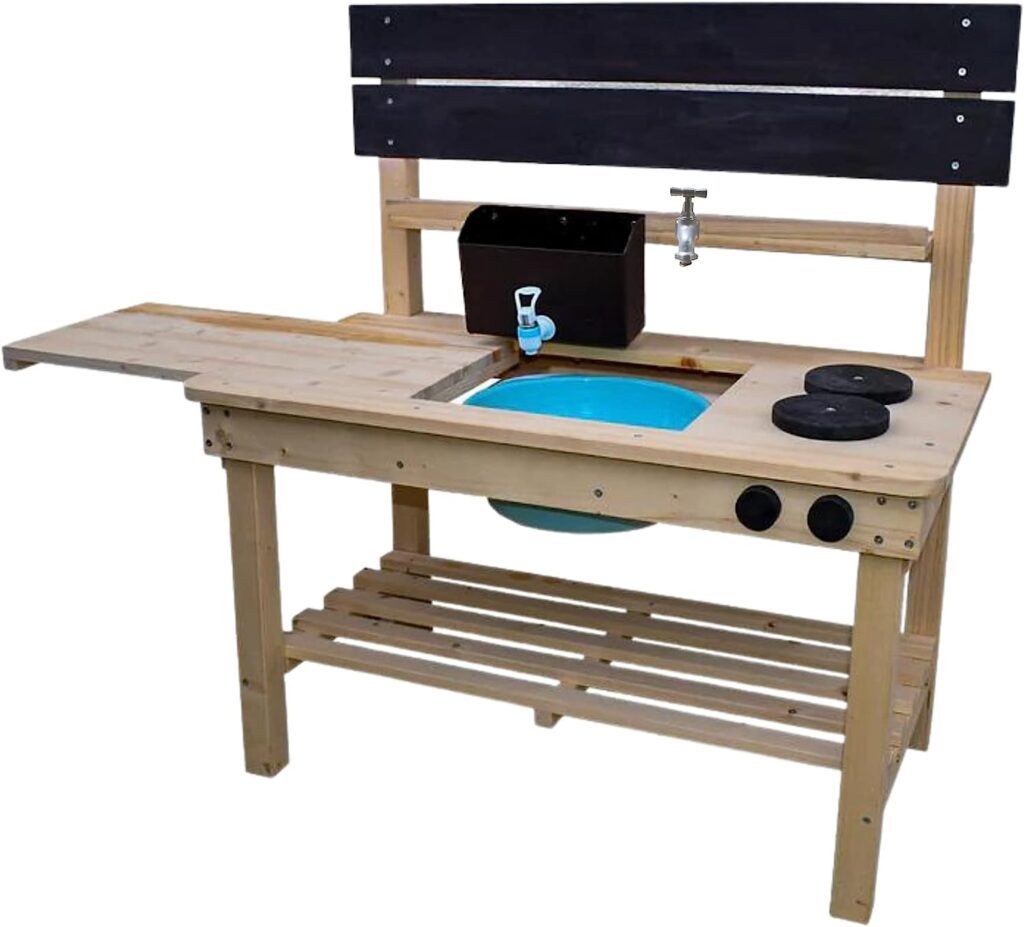 Here is a fun mud kitchen to take water and outdoor play to the next level.  This play mud kitchen is perfect for ages 18+ months and older.   There is a sink for water play and storage shelves beneath the sink for extra storage.
Here is a cute kids' kitchen that is fully stocked with a food basket, sink, water tap, and play vegetables.  There are hooks for kids to hang their mud kitchen accessories on.  The storage shelves above and below the sink come in handy for kids to place all their kitchen items.
Mud Kitchen DIY Plans
Are you looking for mud kitchen plans to give you the perfect blueprint to construct your mud kitchen at home?  Take a close look at this blueprint available for instant download as a PDF file.  It includes a material list and cut list for your mud kitchen, a shop list for your new mud kitchen, and a tool list for assembly.  You will have a complete construction plan for the mud kitchen!
Here is another excellent choice for a blueprint for your new outdoor mud kitchen.  You will get a PDF instant download of the entire process to build your DIY mud kitchen.  This would be the perfect idea for those who want to build a do-it-yourself mud kitchen in their backyard.
FAQs About Mud Kitchens
What is a mud kitchen?
A mud kitchen is an outdoor play kitchen that allows children to explore the world around them by using mud, water, sand, and other natural resources to get messy and experiment.   Kids can use mud kitchen accessories made of recycled materials and kitchen utensils to "cook" their mud pies with mud, sand, and water.
What is the best age for an outdoor kitchen?
Mud kitchens are great for 1 to 7-year-olds.  As soon as kids can stand up and walk on their own, I think they could have fun standing around a mud kitchen.
Why is it called a mud kitchen?
A mud kitchen is inherently messy, and kids are encouraged to play with mud, sand, and water to cook up their imaginative play ideas. The idea of the mud kitchen comes from the Montessori technique of having children learn through play.  Kids are encouraged to get messy and play with mud, hence the name "mud" kitchen.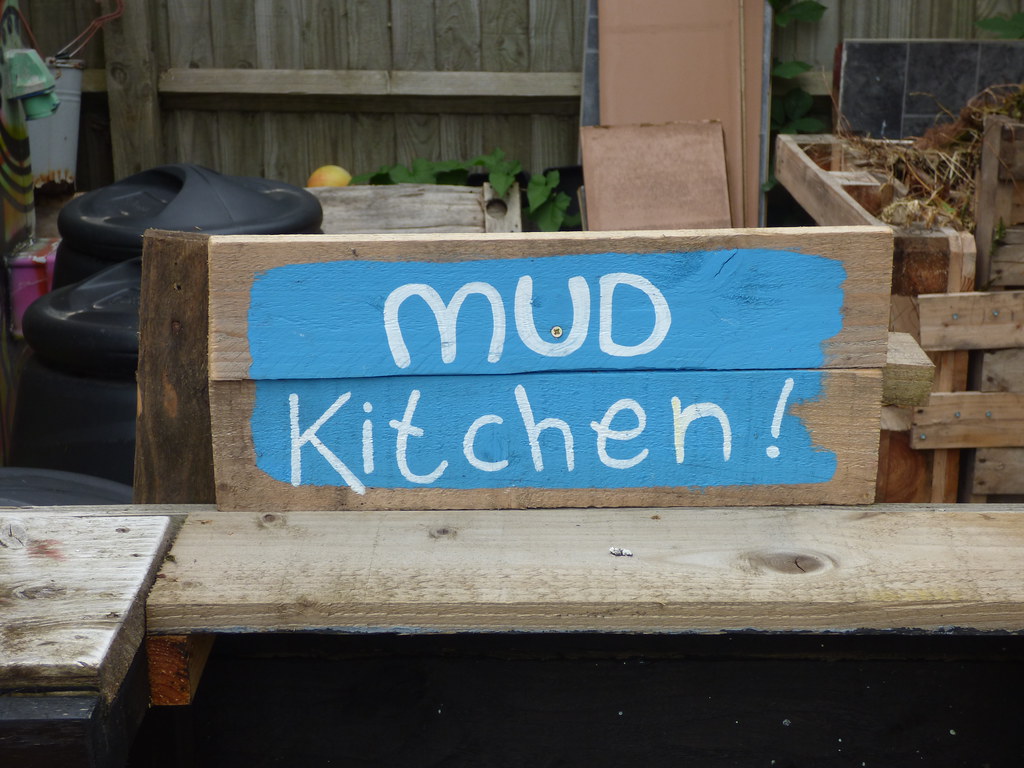 What are children learning from playing in the outdoor kitchen?
Sensory play
Imaginative play
Fine motor skills
Role play
Hours of independent play
Language development
What are the best outdoor kitchen accessories?
Old furniture
Cinder blocks
Lots of water
Scrap wood
Various other natural materials
How do you choose the best kitchen for young children?
There are so many factors to consider when choosing the best idea for a mud kitchen for your child.  Consider if you want to purchase a mud kitchen or build your DIY mud kitchen.  Do you want your mud kitchen to be only made from natural (wood) materials to blend in better in your backyard environment?  Consider the price range you want to dedicate to your mud kitchen.   
There are a variety of different features that can be included in a mud kitchen. What are the top features you want to be included in your mud kitchen?  Examples of mud kitchen features include:
A functioning or pretend sink
Storage space
Counter space
Kitchen accessories
Pretend play stovetop
Hooks to hang mud kitchen accessories
How do you choose the best mud kitchen for older children?
Older children may need a mud kitchen that is a little taller for them to play with, so be sure to look at the height of the counter area.  Older kids can improve their language skills and have fun role-playing with their new mud kitchen.  Be sure to include some fun kitchen accessories for older children to engage in pretend play.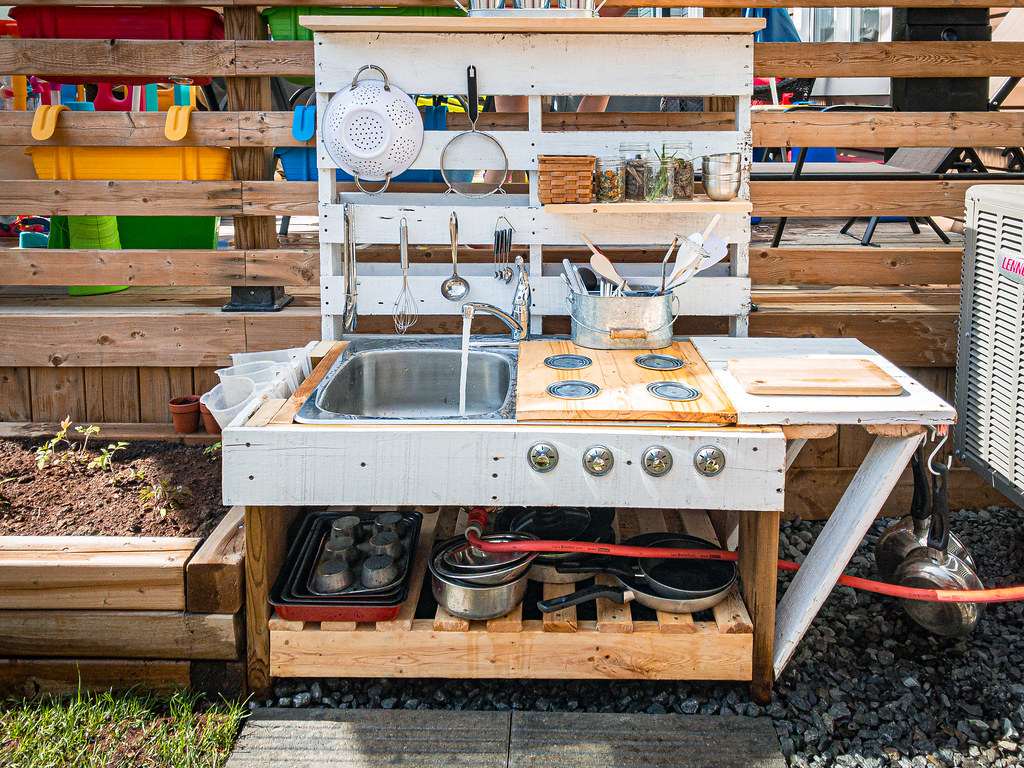 Final Thoughts on Mud Kitchen for Kids
As you can see, a mud kitchen is an important investment in developing your child's fine motor skills, imaginative play, and role-play skills.  Getting your children a mud kitchen as a 1-year-old is one of the best toys you can get for them.  Kids love to get messy and play in the dirt, and it's such a natural way for them to explore the world around them.
Playing with gooey mud, making mud pies, and hours of messy play is sure to await your family once you have your own mud kitchen.  The rewards and benefits outweigh any mess your kids make!
Here are some other articles you may be interested in:
The 9 Best Toddler Headphones for Plane
30+ Best Gifts and Toys for 4-Year-Old Boys
If you found this post helpful, be sure to save it and pin it to Pinterest!
Follow us on Instagram, Facebook, and Pinterest for more fun ideas!